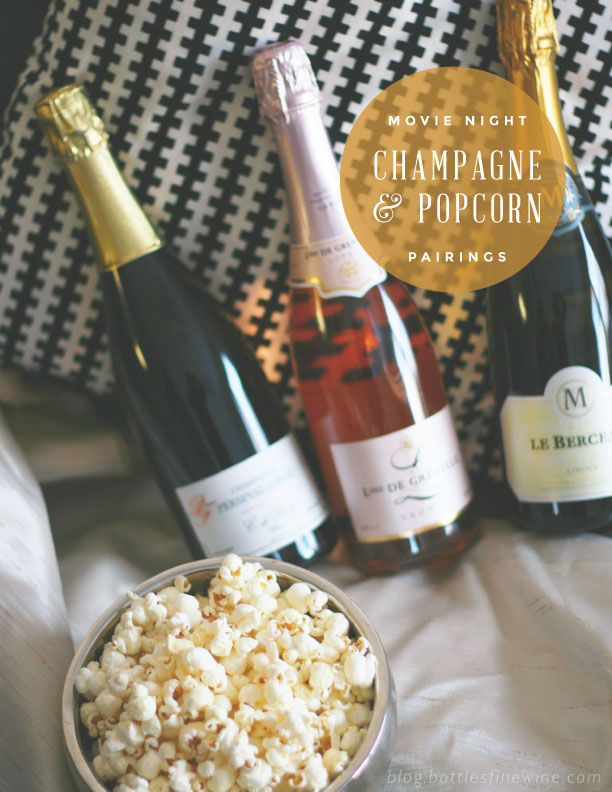 Popcorn and Champagne … they go together like Harry & Sally. Like Bogie & Bacall. Like Harold & Maude: great alone, together sublime.
They're the ideal pair because Champagne's yeasty, toasty bready flavors crave the fat and salt of a perfectly popped and dressed bowl of popcorn. And then there's all that texture: the crunch of the popped corn loves the fizziness of bubbles.
It's a fine thing to do on these cold winter nights here in New England, and on February 22 especially, the night of this year's Oscars. Make a big batch of stove top popcorn and pour a glass or two of your favorite sparkling wine. Grab a thick wool blanket and turn on the telly. Relish in all the glamour and shine and pop and fizz of the Oscars, and then give yourself an award, too, for making such a sublime and tasty popped production of your own.
Here are a few of our favorite popcorn and sparkling wine pairings: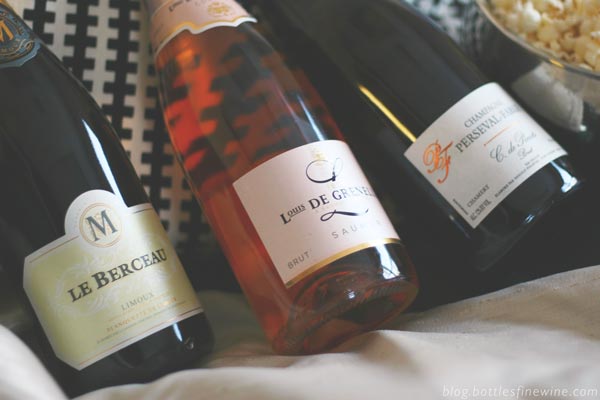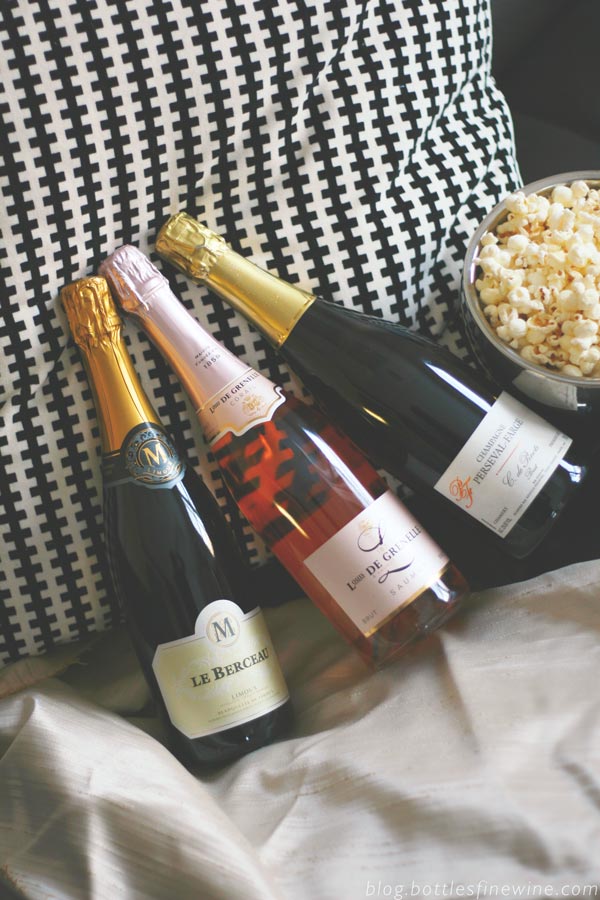 The Harry & Sally
Le Berceau Blanquette de Limoux
+ Popcorn with Salt and Freshly Ground Coriander Seed
This sprightly blanc de blanc sparkling wine from the Lanquedoc, made primarily from mauzac (a white grape), with just a touch of chardonnay and chenin blanc, has an apple-y pear liveliness to it that pairs beautifully with the citrusy coriander on the popcorn. We popped this batch in just the neutral oil, then topped with maldon salt (kosher is good too) and the coriander seeds that we crushed with a mortar and pestle. Melted butter not needed! (Though really, a little wouldn't hurt.)
The Harold & Maude
Louis de Grenelle "Corail" Samur Rosé
+ Bacon Popcorn
From the Loire, this 100% Cabernet Franc sparkler bursts with wild strawberry and raspberry flavors — redolent of morning jam made with super ripe fruit — and finishes with a hint of yeasty goodness. What better to pair with this "breakfast in a glass" than bacon? We cooked off a pound of bacon, and used 4 tablespoons of the rendered fat to pop the corn. Once popped, we topped with 1/2 lb of the bacon, broken into pieces and of course, melted butter.
The Bogie & Bacall
Champagne Perseval-Farge Brut NV "C. de Pinots" 1er Cru
+ Brown Butter Popcorn with Coriander and Parmigiano Reggiano
This rich and full blanc de noir, made with 55% pinot noir and 45% pinot meunier, is full of dried fig, almond, toasted wheat bread and baked apple flavor, all delivered though a sparkling cyclone of tiny bubbles. To match its warm intensity, we served it with popcorn seasonings that are equally as round and deep.
First, we popped the corn in 2 tablespoons of neutral oil, 1 tablespoon of butter and 1 tablespoon of olive oil. Once popped, we dressed it with brown butter, made by warming butter on a stove top until the milk solid have turned a warm brown (don't burn!), and coriander seeds that we crushed by hand. We then topped with maldon salt (kosher is a fine replacement) and drifts of freshly grated Parmigiano Reggiano. The toasty coriander flavors help draw out the brown butter, and the Parmigiano is regal enough to stand up to this true 1er Cru Champagne. Spectacular.
Enjoy the show!
– Cheers, Katie McManus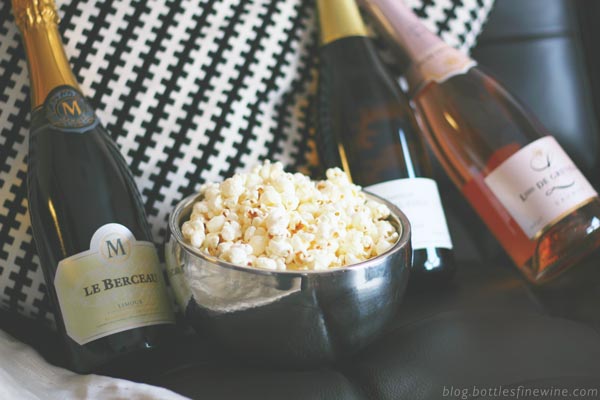 Basic recipe for stove-top popcorn:
Supplies & Ingredients
– A heavy-bottomed pot, with a capacity of at least 3 quarts. This is key. Using a thin-bottomed pot will result in burned popcorn and a ruined pot.
– 4 tbsp fat. Neutral, high-heat oils, such as grape seed or vegetable work best, but for taste, we like to add in more flavorful fats. Use at least 2 tablespoons of the neutral oil, then supplement with butter, or bacon fat, or olive oil, or hazelnut oil or pumpkin seed oil or truffle oil. You get the picture.
– 1/2 cup of good quality corn kernels
Directions:
1. Add the fat to the pot and set over a medium flame. Once heated, add 3 kernels of corn and shake to coat. Put the lid on the pot. Here's a crucial point: Leave the lid ajar to allow steam to escape. Doing this will give you big fluffy popcorn.
2. Once all 3 kernels pop, add the rest of the popcorn and turn the heat to medium-high. Shake to coat them with the oil.
3. Once the popping resumes, drop the heat slightly, and continue shaking the pot vigorously over the heat, all while keeping the lid ajar, until almost all have popped.
4. Remove from heat, and pour the hot popcorn into a wide bowl to ensure even distribution of your seasonings, sprinkle with the toppings of your choice and toss with your hands.