In selecting the wines we feature each Hanukkah, the first thing I consider is the same thing I think about when selecting any of the wines we sell at Bottles: taste. Does the wine taste good, will it fit my customers' tastes. The second is how it will pair with a traditional Hanukkah menu. Will it enhance the flavor and textures of fried latkes and donuts, will it stand up to a rich brisket. Will it add to festivities and celebration at the table. Once a wine has hit those benchmarks, then and only then do I check to see if the wine is kosher.
Here are my picks for wines that will be great for Hanukkah this year.  It's my hope that they'll bring much joy and happiness to your Hanukkah table.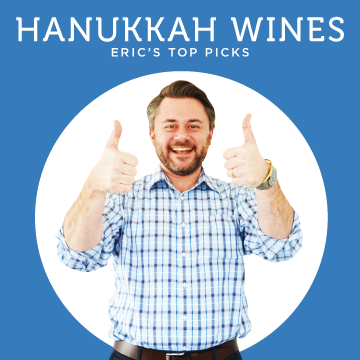 Notte Italiana Prosecco, Italy – Perfect bubbly for the holidays and great with brunch, or just standing around the kitchen and talking. But this extra dry bubbly really shines when it's paired with latke!  $17.99
Dalton Rosé, Israel – Who says that rosé is just for warmer weather?  This is a perfect party wine – dry and light and a good way to start a celebration or to pair with lighter first courses. $19.99 (on sale from $22.99!)
Chateau La Colonne, Lalande de Pomerol, France – A big, powerful wine from one of the best areas of Bordeaux.  This full rich wine calls for big hearty mid-winter celebratory meals and can be enjoyed by everyone at the table, connoisseur and novice alike.  $39.99
Happy Hanukkah!
-Eric