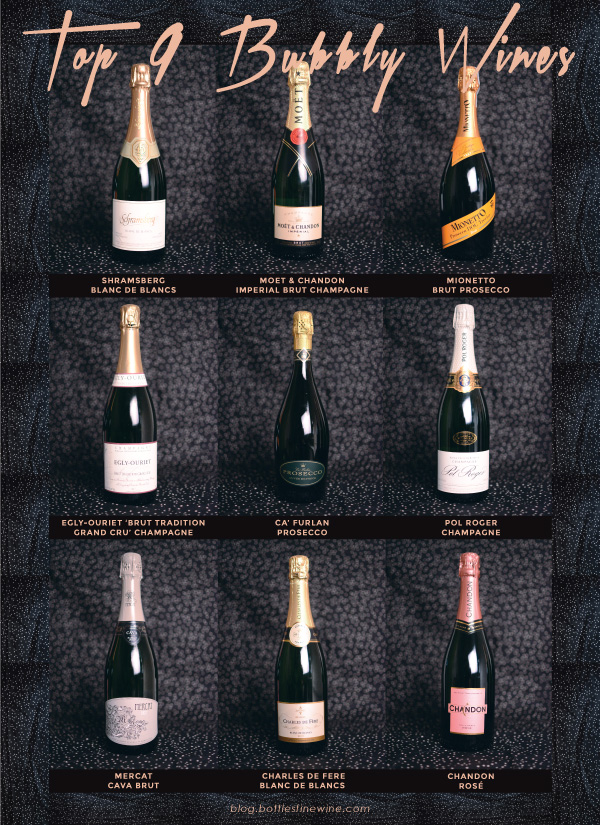 There is no other category of wine in the store that can do or say so much than Sparkling Wine! Regardless of price, a glass of bubbly is the best way to start any occasion.  The 'pop' of the cork is the official sound of party time, and perfectly sets the tone of any gathering. Not only is sparkling wine delicious and one of the most versatile wines for food pairing, but also is the perfect way to say Thank You, I love you or Congratulations!
With so many choices, names and styles it can be difficult to pick a sparkling wine that suits your occasion or meal. We've simplified your decision making process by creating a list of our Top 9 Sparkling Wines for this holiday season. Cheers!
Pol Roger Champagne – Good enough to be served at Kate and William's royal wedding so it's definitely good enough for any occasion at your home.  Classic Champagne with plenty of structure and delicious complex flavors.
Charles de Fère Blanc de Blancs – Made in the same style as Champagne, but much less expensive.  Made with 100% Chardonnay, it's light and lively but has a deep and complex toastiness that makes it a great value.
Ca' Furlan Prosecco – Our most popular wine in the store!  Beautiful and crisp and a perfect pairing with party time!  Superb value!
Schramsberg Blanc de Blancs – California's premier sparkling wine producer and often poured at the White House for fancy state dinners.  Packed with gorgeous tropical fruit flavors, fresh green apple, roasted nuts and a long creamy finish.  Also available in a 1.5L!
Mercat Cava Brut – Beautiful Cava in a beautiful package. Aromas of creamy pear and apple burst out of the glass coupled with flavors of papaya and hints of toasted hazelnuts. So good!
Egly-Ouriet 'Brut Tradition Grand Cru' Champagne – The King of the 'Grower Champagnes'! Made by the same people that grow the grapes, this is an absolute sleeper of a Champagne.  Dry, perhaps even austere, with some much complexity of flavor that you'll be thinking of it for days after.
Mionetto Brut Prosecco – Perhaps the most iconic Prosecco in the world!  Intensely fruity aromas – very dry, fresh, light in body and well-balanced.  Perfect alone as an aperitif or as a complement to appetizers.  Also excellent as a base for Bellinis and other sparkling wine cocktails.
Möet & Chandon Imperial Brut Champagne – So much elegance and complexity wrapped up in one bottle!  Vibrant intensity of green apples and citrus fruits, freshness of mineral nuances and white flowers and elegance of brioche and fresh roasted nuts.
Chandon Rosé – A dramatic sparkling wine from California!  Deep pink color with intense ripe strawberry, juicy watermelon and fresh red cherry fruit flavors and aromas.  A very creamy and seductive wine that is bold and sure to make a big impact at any occasion.
Cheers!
Eric Taylor