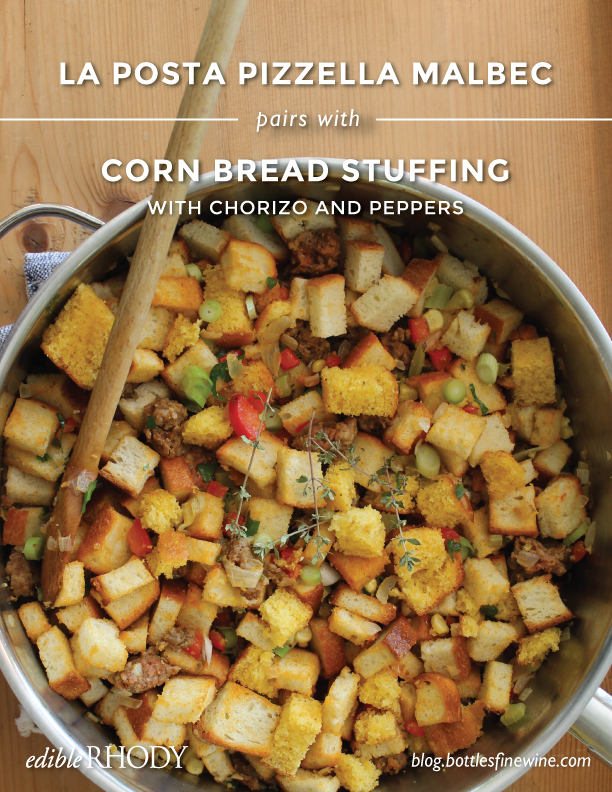 Sometimes, it's fun to do a twist on your traditional Thanksgiving dishes, and Edible Rhody's Corn Bread and Chorizo Stuffing recipe is a great choice to liven things up. Enjoy with a big glass of rich, delicious Malbec!
The little bit of spice from both the chorizo and the cayenne and the big ripe fruit flavors of La Posta Pizzella Vineyard Malbec will be perfect together.  Plus, if you are going to slather the stuffing in gravy, you'll be glad you have this beautiful Malbec to cut through all the richness.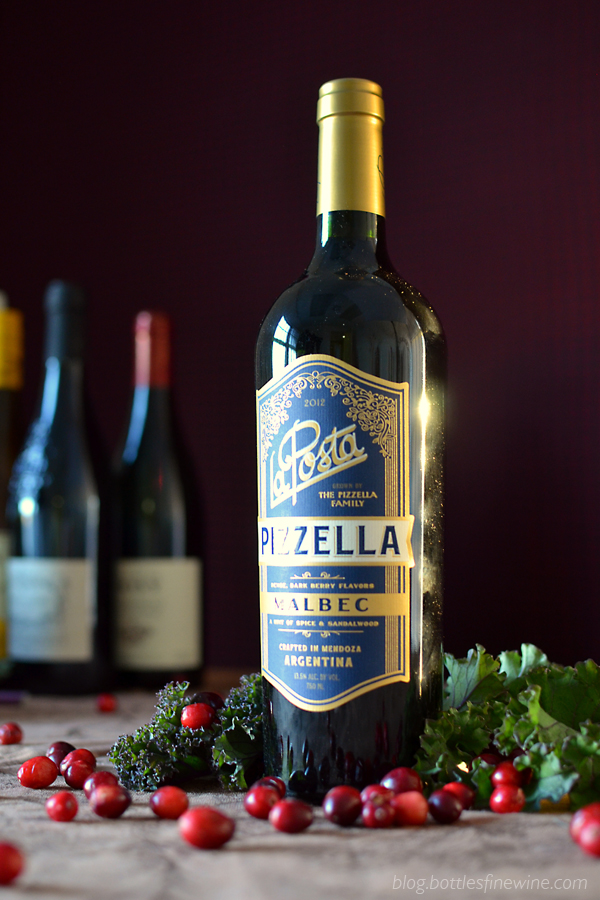 CORN BREAD AND CHORIZO STUFFING
Owners Nick & Tracy Rabar, Avenue N American Kitchen & The Pantry at Avenue N, Rumford
You've got to have some fun and break tradition from time to time. This recipe came from that style of thinking—and it's a great example of our ever-evolving Thanksgiving menu. It feeds a big crowd but can be divided easily.
½ loaf (8-inch length) Seven Stars pain de mie or other quality, dense white bread, cubed
1 small loaf (4 cups) corn bread, cubed
2 tablespoons extra-virgin olive oil
1 Vidalia onion, peeled and diced
2 jalapeño peppers, seeded and diced
1 red Bell pepper, seeded and diced
2 stalks celery, diced
4 small cloves garlic, peeled and minced
1 pound chorizo, casing removed
2 ears (1 cup) sweet corn, removed from cob
2 scallions, finely sliced
8 sprigs fresh thyme, stems removed
1 teaspoon chili powder
1 teaspoon smoked paprika
½ teaspoon cayenne pepper
2 teaspoons kosher or sea salt
2–3 teaspoons Tabasco, or to taste
2 tablespoons honey
2 sticks (½ pound) unsalted butter, melted
2–4 cups chicken stock
Preheat oven to 350°.
Spread cubed breads on 2 large sheet pans, being careful not to crowd. Bake until lightly toasted, approximately 20 minutes. Remove from oven and cool.
Grease a large baking dish that doubles for serving. Heat olive oil in a large sauté pan over medium heat. Add onions, jalapeños, red pepper, celery and garlic and sauté until the onions are translucent (5 minutes). Add chorizo and stir to break up into small pieces until cooked through. Add corn and scallions; sauté another 5 minutes. Add cubed bread, thyme, chili powder, paprika, cayenne, salt, Tabasco, honey and butter and toss well. Add chicken broth until desired consistency is met. Stuffing should be moist but not soupy. Check for seasoning. Spoon stuffing into baking dish and bake uncovered for 40 minutes.
Makes approximately 15 cups or 12 servings.
I know my mouth is watering… Happy cooking!
Cheers, 
The Bottles Team