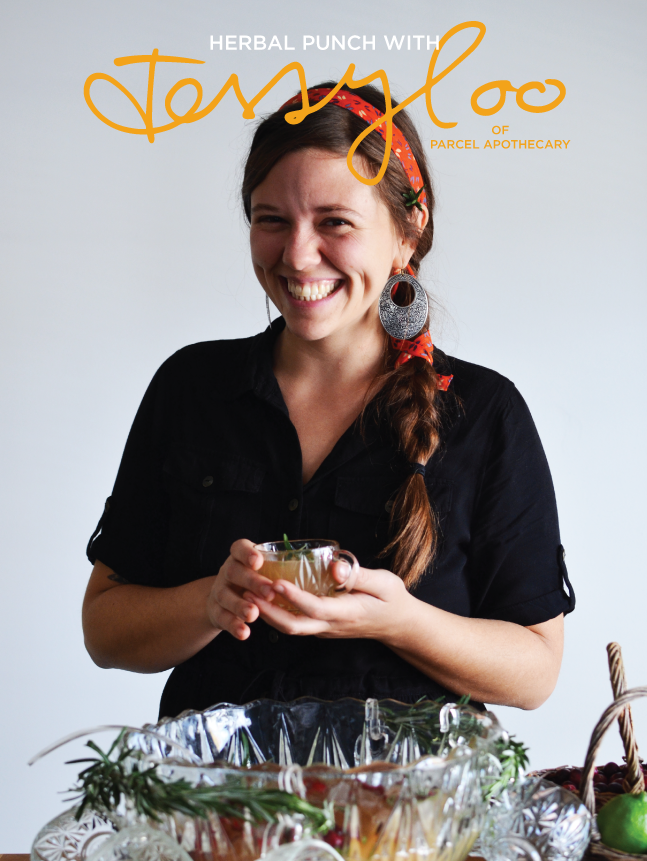 Whether you're hosting 4 people or 40, serving a big bowl of premade punch is a stress free and festive way to ensure your guests drink well. Bottles' friend Jessyloo Rodrigues, the Botanical Bartender behind the Parcel Apothecary herbal CSA / cocktail farm, recently shared with us tips and tricks for perfecting your punch, as well as three of her favorite seasonal recipes.
A Traditional DIY Rum Punch
Tips on ingredients:
The original word for punch comes from the Sanskrit word meaning 5, and refers to the 5 traditional ingredients in classic punches: alcohol, sugar, lemon, water, tea/spices. Consider using variations on those key elements when constructing your punch.
Our new favorite way to remember the recipe for a Traditional Rum Punch is with a rhyme: "One of sour, two of sweet, three of strong, four of weak." Using that rhyme as your guide will allow you to riff with ingredients and open your punch up to what's in season.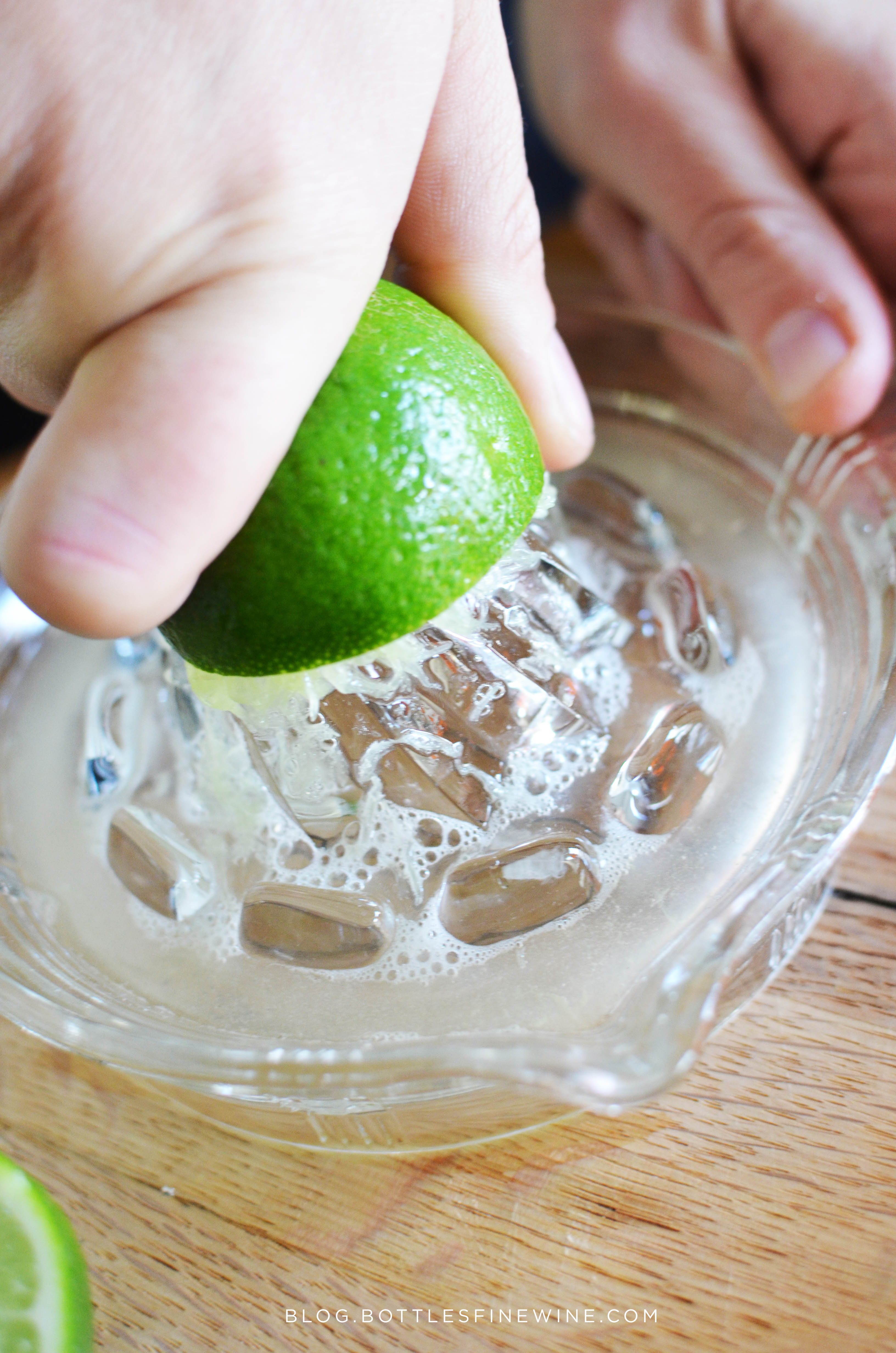 Sour: lemon juice is traditional, but you could also use lime juice, grapefruit juice, tart/sour cherry juice or a blend.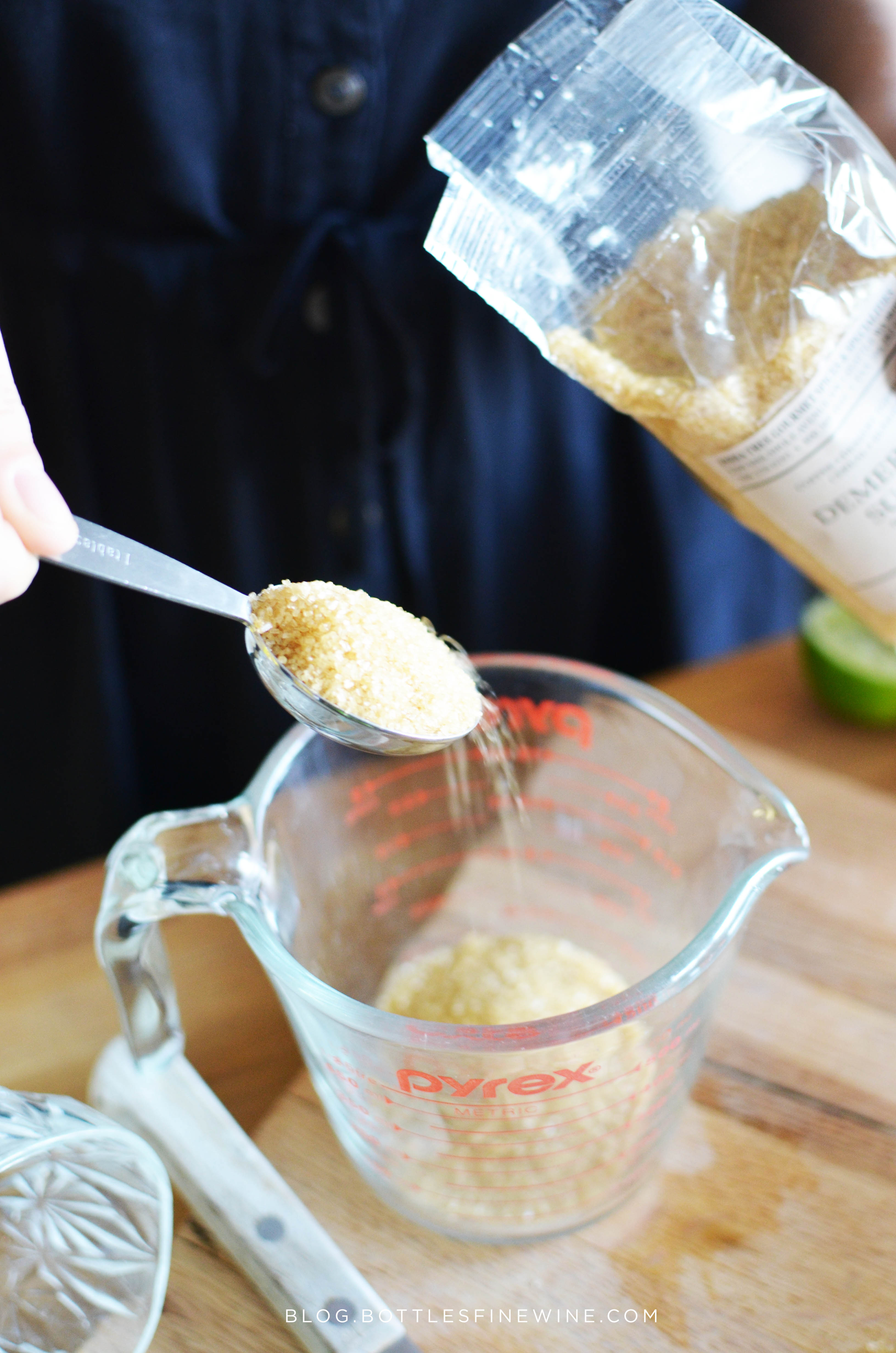 Sweet: A classic simple syrup is an easy way to add the "sweet." To make simple syrup, mix 50/50 sugar to warm water and stir until sugar is dissolved. You can use traditional cane sugar, or grenadine syrup (pomegranate & sugar simple syrup), or make your own simple syrup with any of the following sugars: honey, agave, maple syrup, coconut sugar, demerara. Consider adding strawberries, raspberries, passionfruit, or any other fruit to your simple syrup. Or infuse the simple syrup with your favorite aromatic herb (like lavender, mint, basil, rosemary). To do so, add the herb after the sugar is dissolved and the water is slightly cooled, and let steep for 15 minutes, then strain out the herb matter.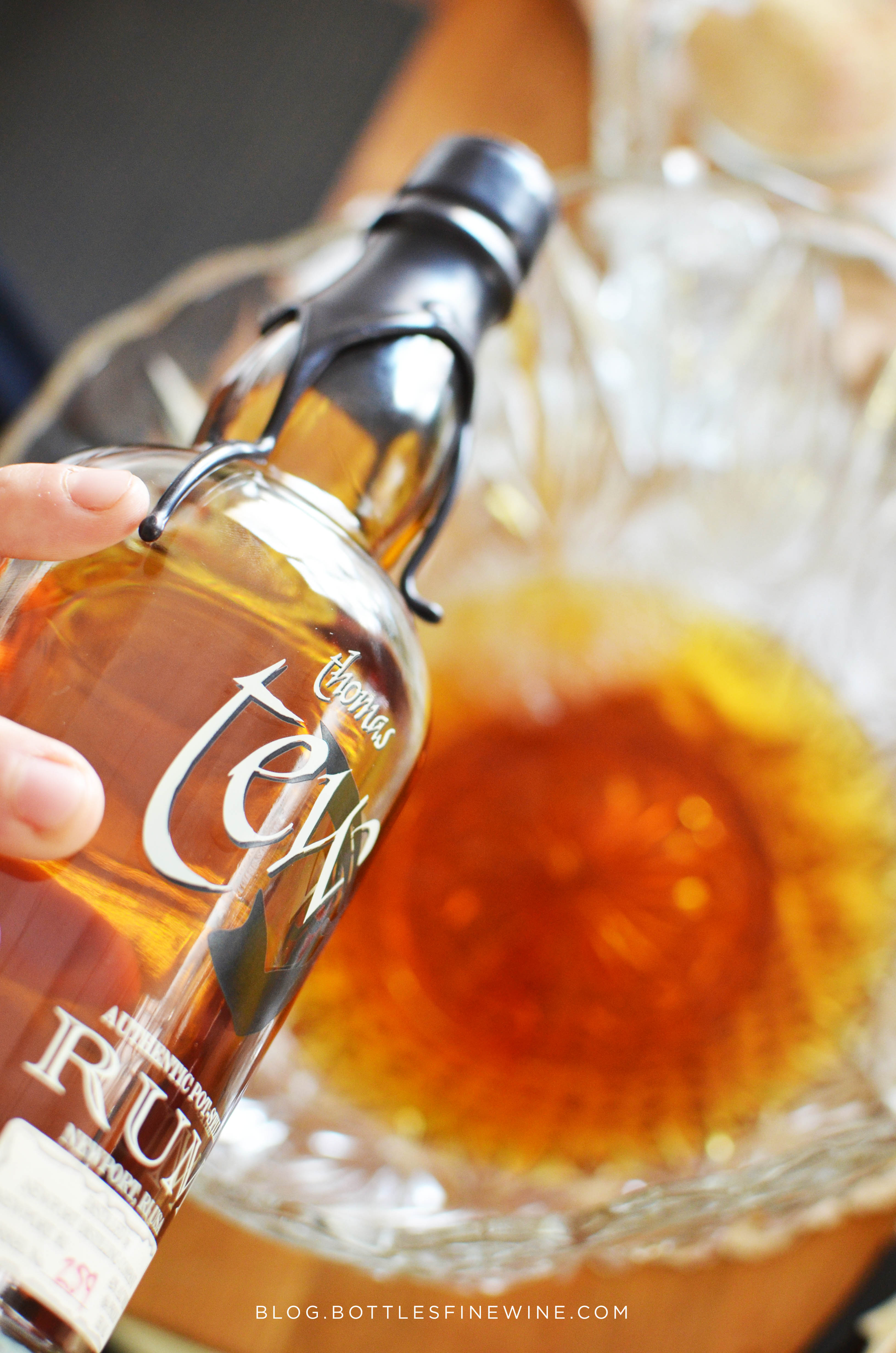 Strong, aka, the alcohol: The punches below use locally-made spirits. If you're not in the Rhode Island vicinity, be sure to look for spirits made in your area. Thanks to the boom of small craft distillers, they can be found in your local radius anywhere in the US at this point. Use just one spirit, or a mix of several.

Weak: Go with one juice, or try a blend. Pineapple, orange, pomegranate, and watermelon are all good choices. Or, try freshly squeezing a blend of your own juices (carrot &  ginger are terrific). When cocktails meet your health kick – your trainer will be proud! Also, it's always a good idea to balance the juice with water (tap, coconut, acai, etc.) as it helps dilute the juice's concentration.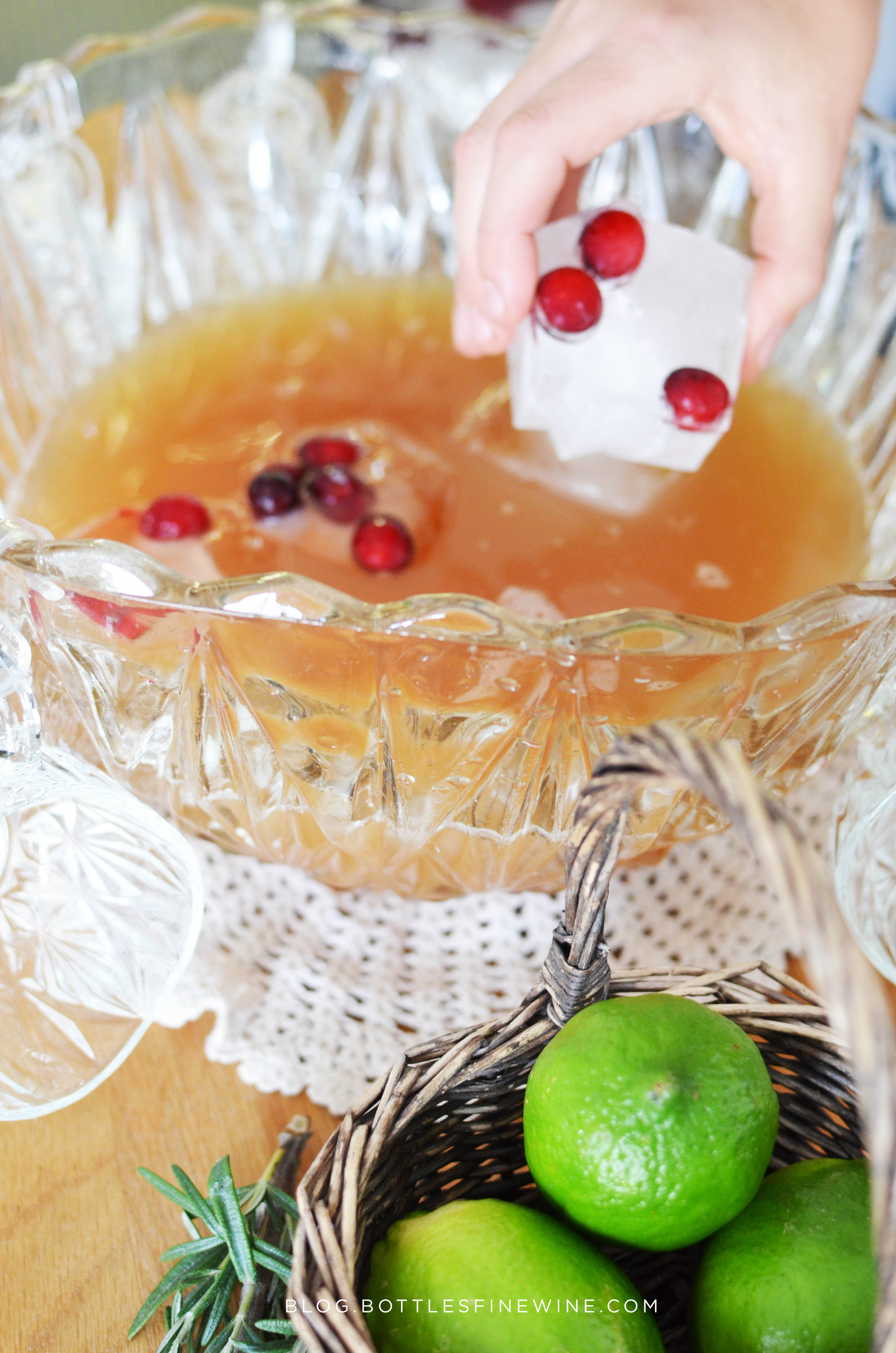 Using large-format ice is ideal, as it slows down the dilution of your punch, while keeping it chilled. Consider using a bundt pan as a ring mold, and float your garnish (citrus wheels, herbs, garnish, edible flowers, or a little prize) in the water before freezing. Alternately, use plastic bags or a small plastic bowl as your mold. Large-format ice cube "trays" are easily available, too. We have several sizes and shapes at Bottles.
All recipes below are formatted for the standard, large 8-quart punch bowl.
A Traditional Rum Punch 
Ingredients
1 cup freshly squeezed lime juice (sour)
2 cups simple syrup made from demerara sugar (sweet)
3 cups Thomas Tew Rum (strong)
4 cups of a 50/50 mixture of pineapple juice and coconut water (weak)
Garnish: fresh limes, cranberries and rosemary. Jessyloo chose rosemary, a symbol of remembrance, for this recipe as it represents the rhyme that will help you remember how to make punch! It's also a lovely aromatic herb that will inspire you and your guests to stir up fond memories of loved ones at your holiday gathering this year. (Herbal Fun Fact: simply smelling rosemary once a day can improve your short and long term memory.)
Method
Combine all ingredients into a punch bowl, stirring well after each addition. Add large-format ice and garnish with fruit and herbs. In our punch, Jessyloo filled the limes halves we squeezed earlier with cranberries and rosemary for garnish.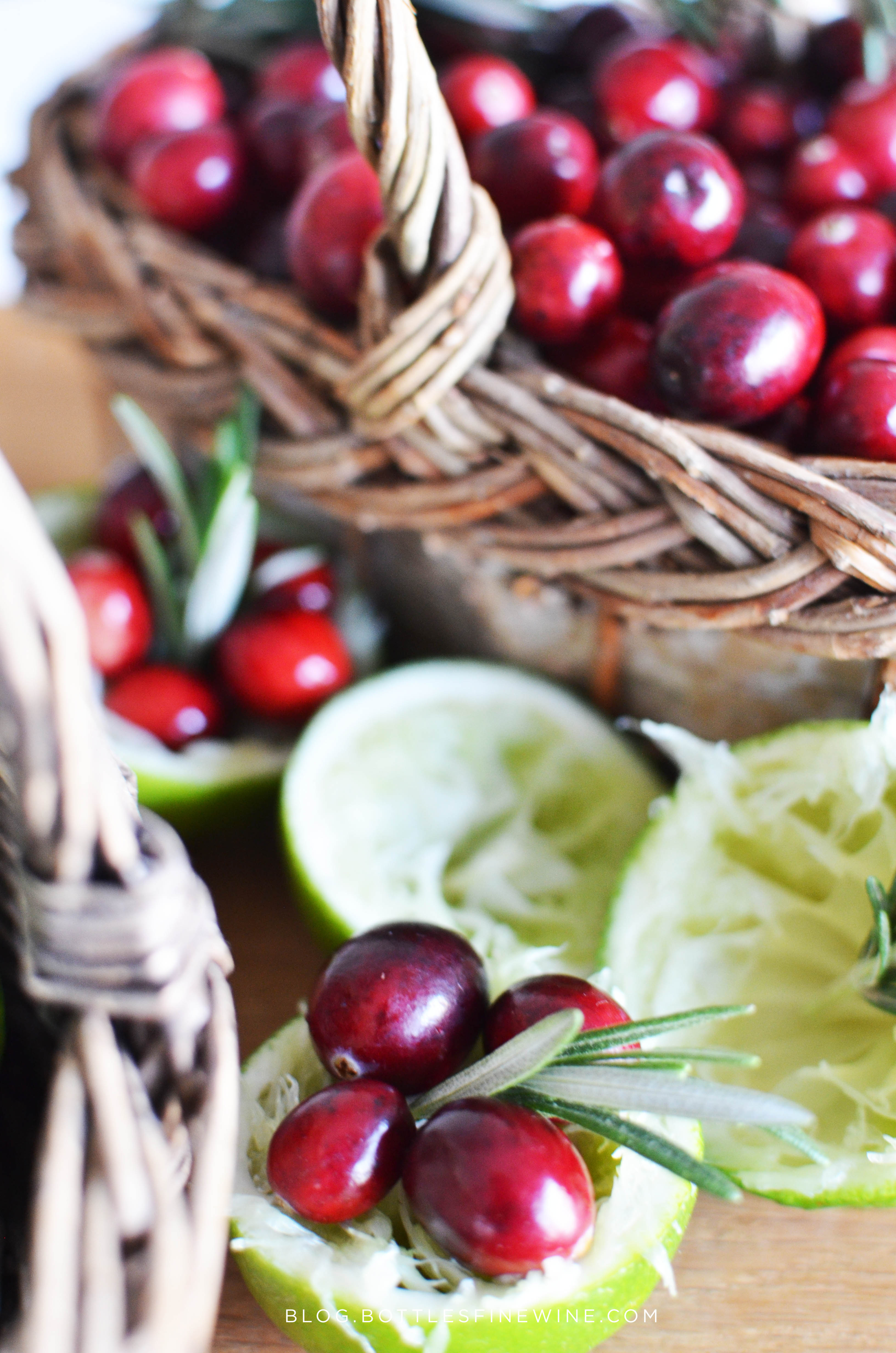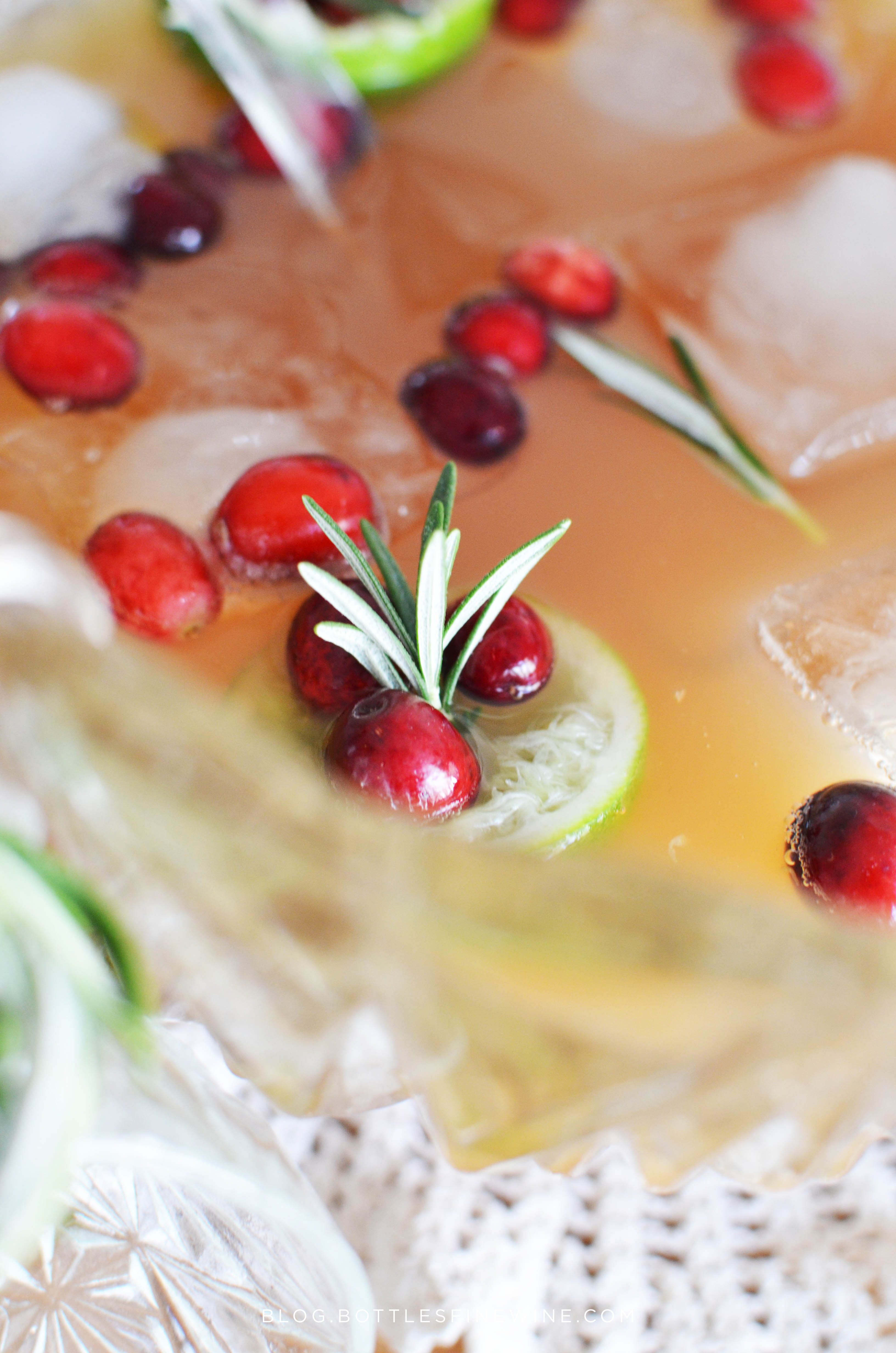 Here are two additional recipes that will require a touch more effort, but are worth every second.
Honey Bee in a Pine Tree
Ingredients
9 green tea teabags
12oz freshly-squeezed lime juice
1 bottle (750ml) of Barr Hill Vodka (distilled from Vermont honey)
12oz Combier (an orange liqueur)
18oz Pama Liqueur
8oz Zirbenz (a pine liqueur)
1 bottle (750ml) Mionetto Brut Prosecco
Garnish: pomegranate jewels and lime slices
Method
Prepare 18oz of green tea by brewing 9 teabags in 18oz of boiling water, and letting steep for 5 minutes. Add the next 5 liquid ingredients into your punch bowl, stirring vigorously after each addition. Let sit in the fridge for 2-4 hours. Top with a 750ml bottle of prosecco. Add ice and garnish with pomegranate jewels and lime slices. (Herbal Fun Fact: white pine needles are edible and high in vitamin C.)
Five Pointed Punch
Ingredients
1 tbsp Chinese 5-Spice Powder
7oz raw honey
6 Roobios teabags
25oz of Sons of Liberty Gala Apple Whiskey
8oz Lime Juice
12oz Orange Juice
10oz Apple Cider
32oz club soda or seltzer
Garnish: lime, orange and apple slices cut width-wise to reveal their star (remove seeds).
Method
Make a 5-Spice honey simple syrup: stir the Chinese 5-Spice Powder and raw honey into 8oz of hot water until dissolved. Add to your punch bowl. Prepare 12oz of strong Roobios tea by brewing 6 teabags in 12oz of boiling water, and let steep for 15 minutes. Add to the punch bowl. Add all remaining liquid ingredients except the club soda into your punch bowl, stirring vigorously after each addition.  Let sit in the fridge for 2-4 hours.  Add ice cube and top with club soda before serving. Garnish with the fruit slices. (Herbal Fun Fact: The spices used in Chinese 5 Spice are star anise, szechuan peppercorns, fennel seeds, cinnamon and cloves. These represent the 5 natural elements in traditional Chinese medicine, thus making the powder a balanced and powerful blend. All 5 spices are used for digestive complaints and as an ingredient in tooth paste.)
We hope you enjoy making these punches. Our thanks to Jessyloo, and Happy Holidays!
###