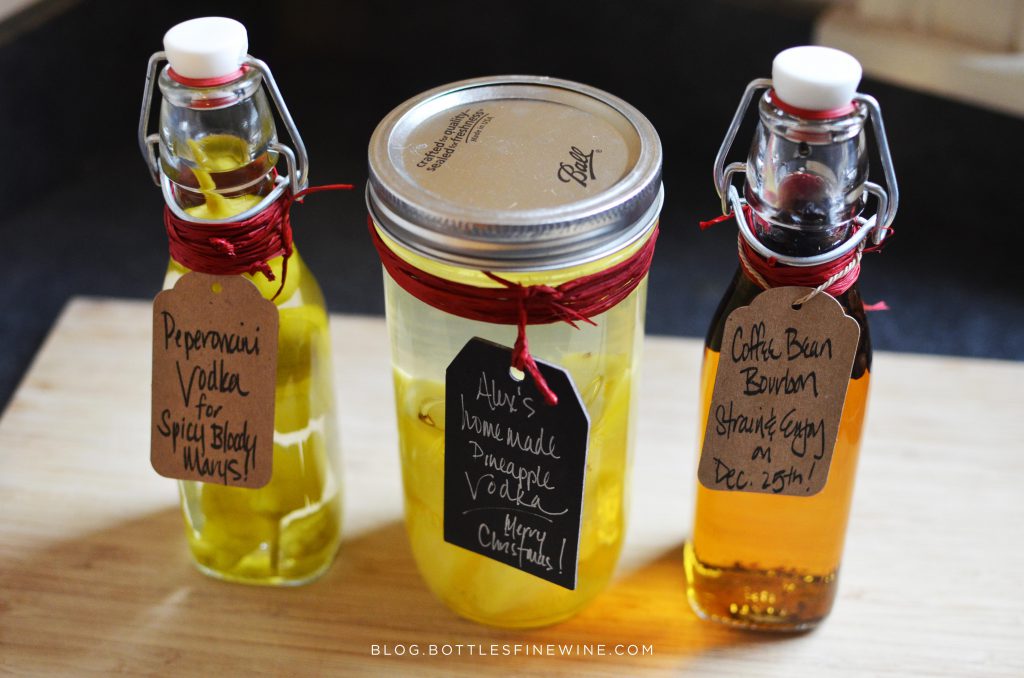 Peperoncini Vodka, Pineapple Vodka, and Coffee Bean Bourbon, ready to gift
DIY infused booze. It's the perfect gift, whether you're the type that likes to have your gifting done pre-Thanksgiving, or the guy who's scouring the mall on December 23rd.
It's simple, really. All you need is a neutral spirit, an empty jar or bottle, spices, produce, or herbs of your choice, a ribbon (or not) and a gift tag (or not). The hardest part is creating the perfect combination of flavors for your recipient (and that's what we're here for), and letting time do its thing.
Because the formula is vague (booze + flavor = infusion!) it can be easy to get overwhelmed. My advice is to keep it simple and stick to your gut. That's what I did when I first made Pineapple Vodka many years ago. And though I've made more intricate infusions over the years, the original Pineapple is the one most requested by my family members. I get the evil eye if I don't gift it each season. Not only is it delicious, but also has the added benefits for our purposes here, of being virtually foolproof, and quick. Which means even if you find yourself needing gifts on December 23rd, this recipe will deliver.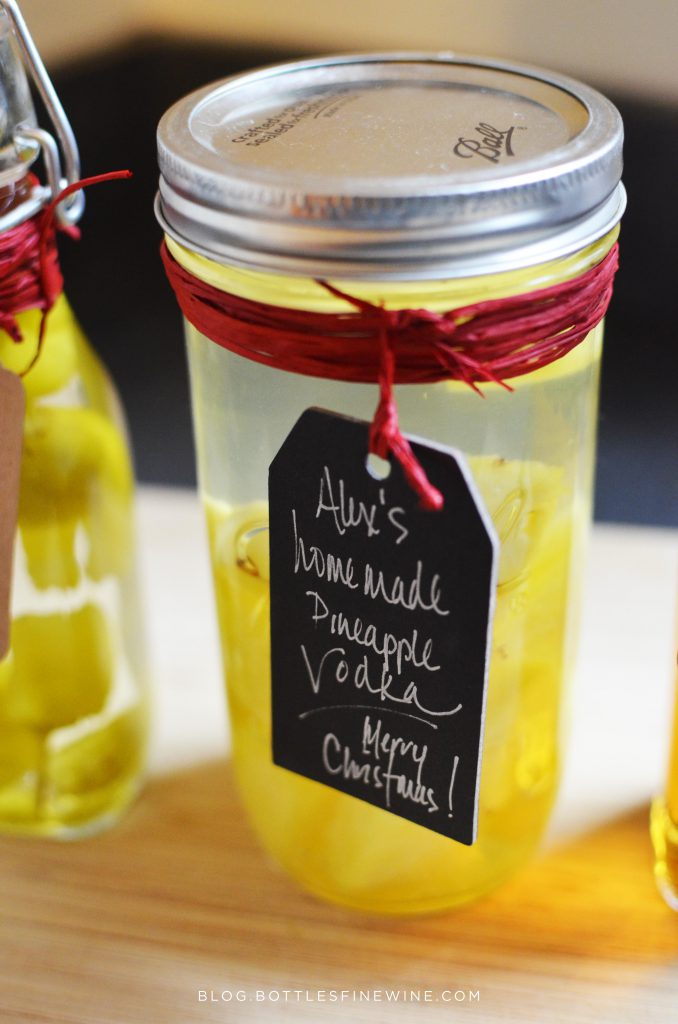 DIY Pineapple Vodka (makes 750ml of infused spirit)
Trim and cut one fresh pineapple. (If you don't have a pineapple coring apparatus, just use a sharp chef's knife or a serrated knife to trim off the top, then trim straight across the bottom so it will stand up straight. Slice down the sides, cutting off the tough outer skin and inner spikes. You can now slice the pineapple into rings or chunks. For rings, cut the pineapple widthwise into slices. Using a small, round cookie cutter, stamp out the inner core and discard. For chunks, slice the pineapple lengthwise around the core to desired thickness. Cut each piece lengthwise again. Finally, dice crosswise to create chunks.) If you're using a bottle as your gifting container, be sure to cut the fruit into pieces small enough to fit inside the neck of the bottle.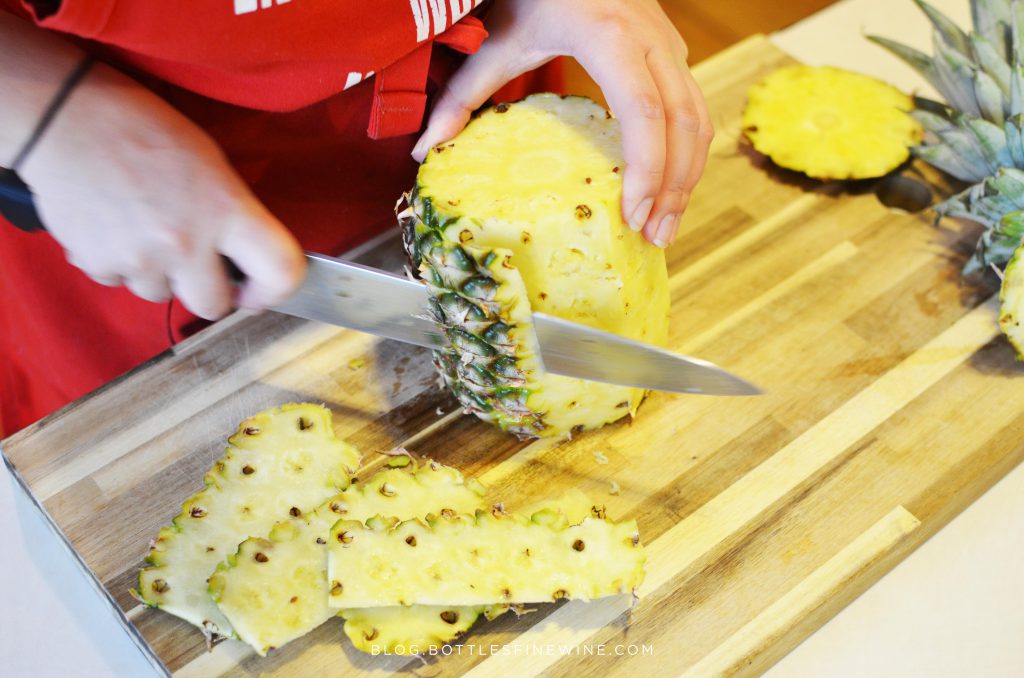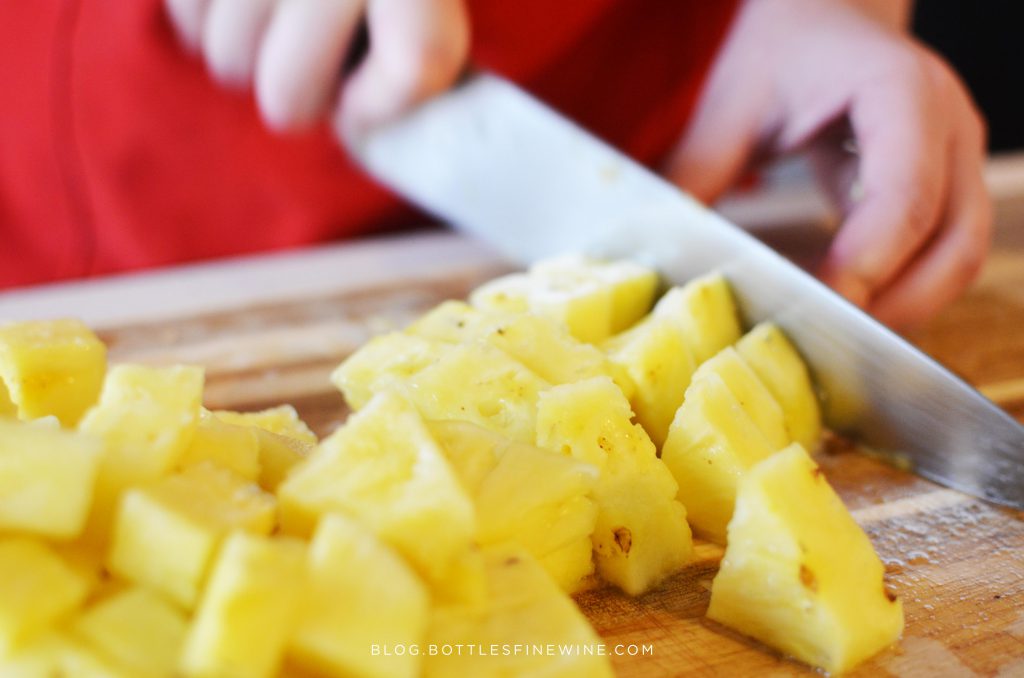 Select a glass container with a tight fitting lid. Fill it ¾ of the way with the cut pineapple, and add enough vodka to fill.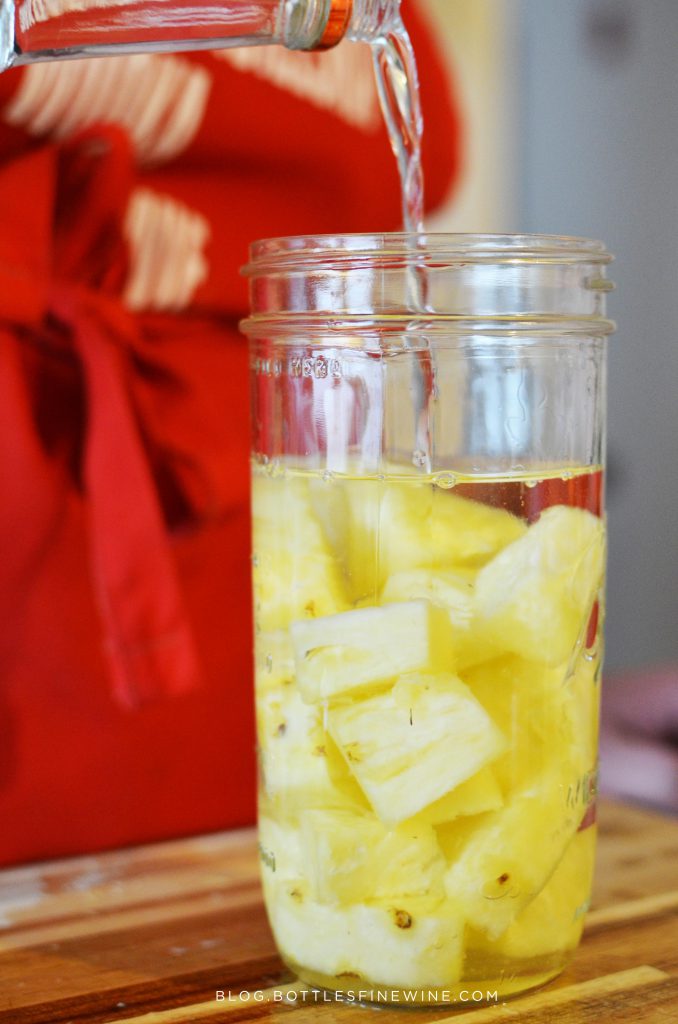 Seal the container, and shake for about 40 seconds. For optimum infused flavor, let sit for at least 1 hour and up to 2 weeks. If you find yourself short of time, simply indicate an "open" date on your gift tag. One of the best parts about this particular infusion? The fruit is edible (some say even better) once it's soaked. Don't forget to tell the recipient to eat the booze-infused pineapple – it's amazing.
Bottling Your Infused Gift
This recipe yields 750ml of liquid, enough to fill a standard wine bottle. Swing-top bottles (we sell both the 750ml and 8oz sizes) are really great for this, as are wide-mouth mason jars, which lend a truly homemade feel.
Writing Your Bottle Notes
A handwritten note or tag to accompany your handmade hooch is a lovely, thoughtful touch.
-consider including your suggestions for how best to enjoy the spirit, or a recipe for a cocktail that has as its main ingredient your infusion.
-if your infusion contains ingredients that may be considered allergens, include that info on your tag.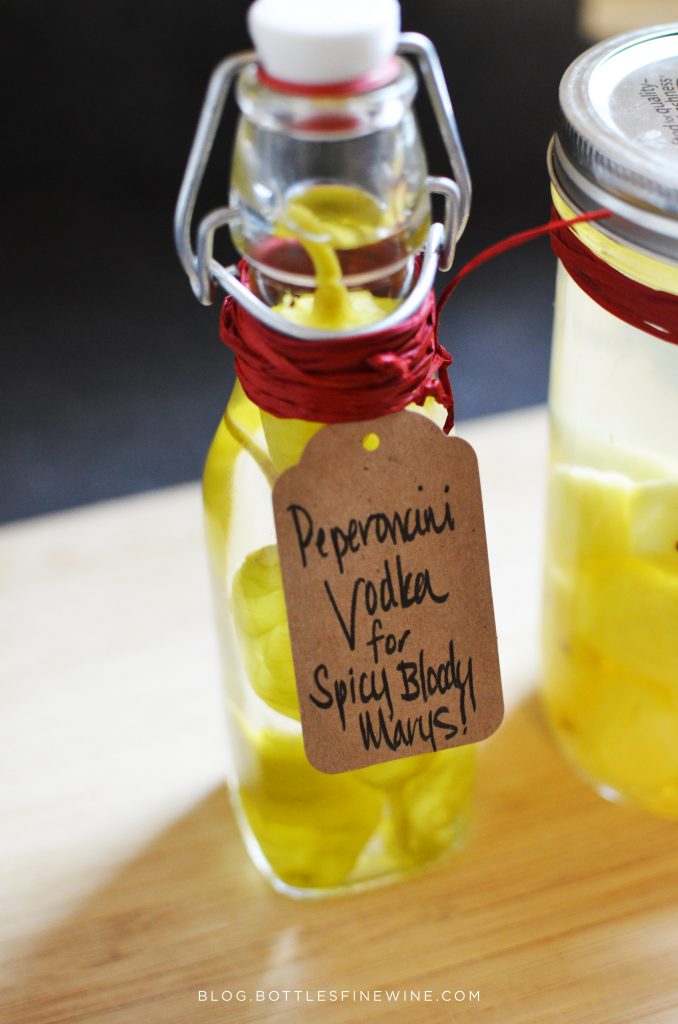 Below are additional combinations I've used for years. Some require weeks of steeping and contact time, others only 24 hours. Visit our handy Infused Booze Infographic for instructions, then play with the combos below. I'd love to hear about infusions you've done or are trying this season. Tag @bottlesfinewine on Instagram and we'll share your creations!
Bourbons (I like Bulleit or Maker's Mark)
Hearty, warm aromatics will enhance the spirit's warm, oaky notes. Consider:
Apple Cinnamon Bourbon
Coffee Bean Bourbon
Vodka (Prairie & Tito's are my go-tos)
These neutral spirits are the most versatile, and play nicely with just about any fruit, herb or vegetable. Try:
Peperoncini Vodka
Ginger Lime Vodka
Blackberry Thyme Vodka
Gin (Prairie or Farmer's work best here)
Herb and citrus flavors are a natural partner for gin. Consider:
Cucumber Basil Gin
Rosemary Gin

Tequila (Altos or Camarena)
Bring out the big guns to match tequila's punch. Try:
Mango Tequila
Strawberry Tequila (so great for strawberry margaritas!)
Jalapeno Tequila

I hope you have fun infusing your booze!
Happy Holidays,
Alex