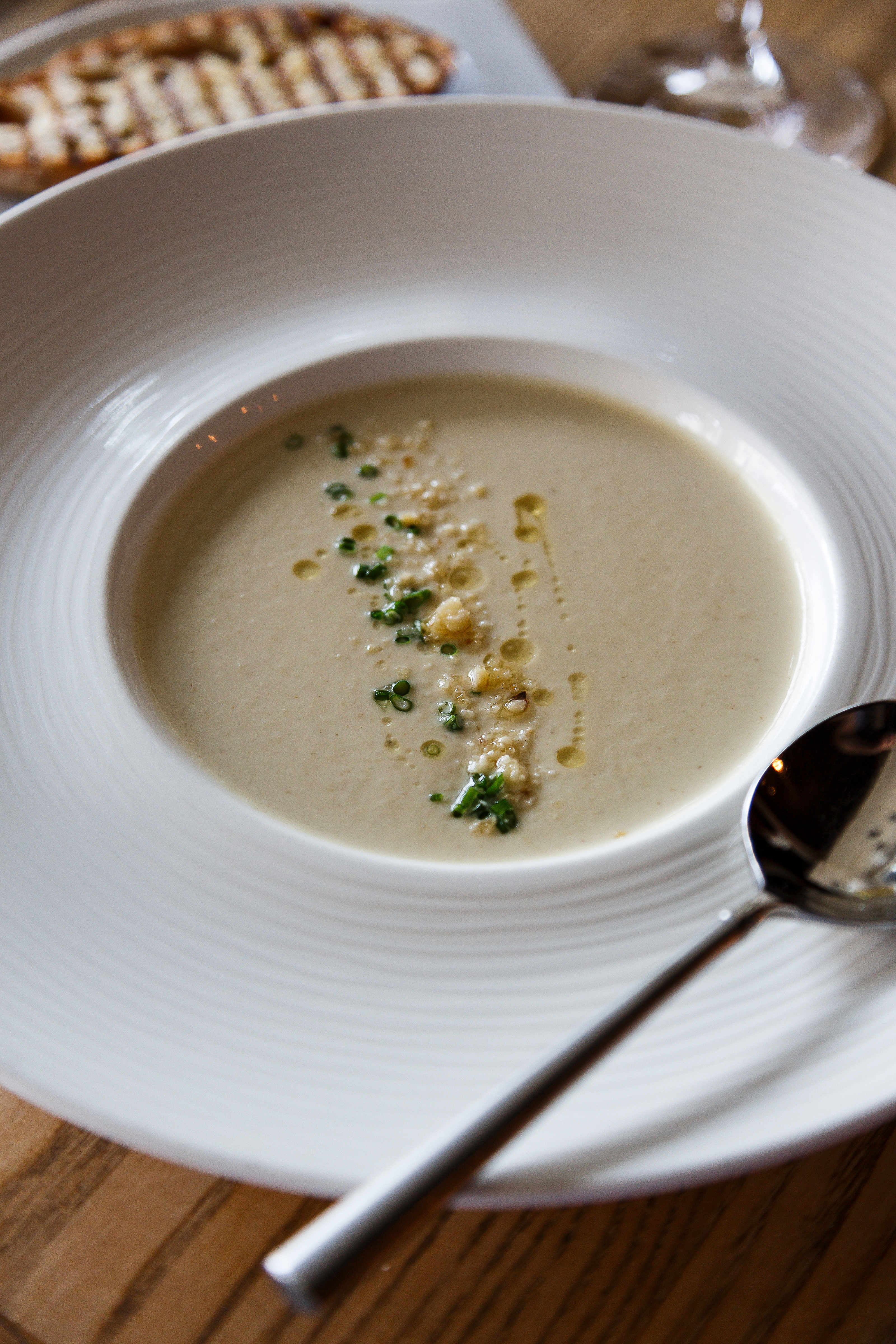 photo credit: Edible Rhody
With cooler, fall nights upon us, the soul starts to crave rich, creamy, nourishing soups. Ben Lloyd, Chef-Owner of The Salted Slate (just a hop and a skip from Bottles) has a satisfying roasted cauliflower situation that fits the bill. He's shared his recipe in the current issue of Edible Rhody, and we're happy to re-post it here, along with our wine pick, the Palagetto Vernaccia "Santa Chiara" DOCG.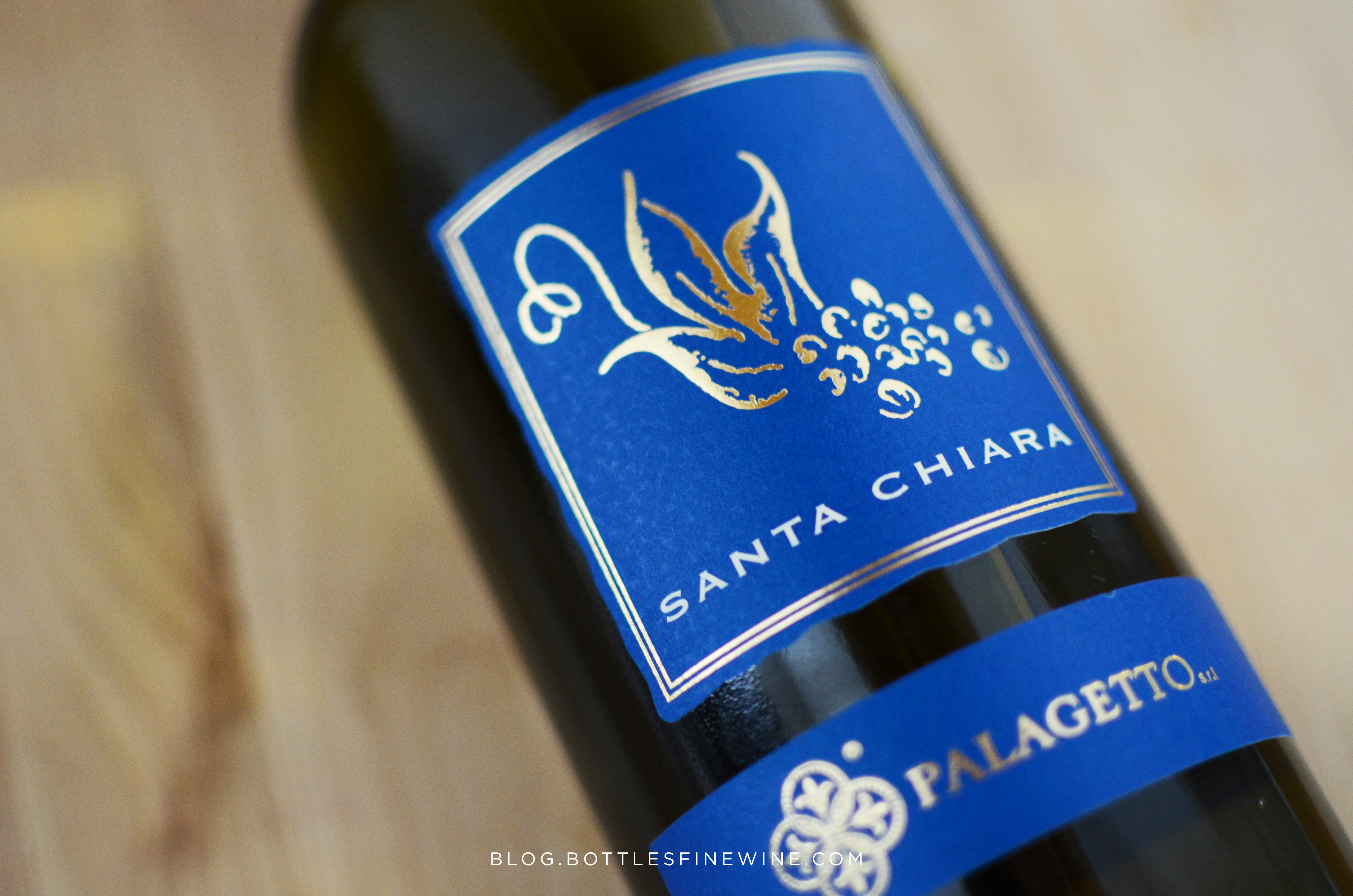 Made from 100% Vernaccia grapes grown in the town of San Gimignano in Tuscany, this beautiful white is crisp enough to cut through the soup's rich creaminess, and steely enough to match the cauliflower flavor. Its touch-of-fruitiness on the finish plays nicely with the hazelnut, too.
ROASTED CAULIFLOWER SOUP
Says Chef-Owner Ben Lloyd, The Salted Slate, Providence: "Roasting the vegetables for this recipe converts starches to sugars more thoroughly than boiling them, creating a deeper and richer soup with more cauliflower flavor."
Ingredients
1 large Spanish onion, peeled, halved and sliced
1 bulb fennel, trimmed, halved and roughly chopped
2 ribs celery, chopped
1 medium head cauliflower, cleaned, trimmed and roughly chopped
6 cloves peeled garlic
3 tablespoons extra-virgin olive oil
Kosher salt
Ground white pepper
4 tablespoons (half stick) unsalted butter
2 fresh bay leaves (or substitute dried)
5 cups low-sodium vegetable or chicken stock
¼ cup plain Greek-style yogurt
2 cups heavy cream
3 tablespoons finely minced chives
3–4 tablespoons hazelnuts, toasted and chopped
Hazelnut oil (optional garnish)
Preheat oven to 425°. Toss the vegetables with olive oil and season with 2 teaspoons salt and a pinch of white pepper. Place them on a large baking sheet in the oven. When vegetables are roasted but not too browned (about 15 minutes), remove from oven.
In a medium sauce pot melt butter and add roasted vegetables along with 2 bay leaves. Add stock to cover the vegetables and add 1 tablespoon salt.
Bring to a boil then quickly reduce to a simmer. Simmer for 10 minutes.
Remove the bay leaves.
Purée soup in a blender, then add yogurt and cream. Quickly pulse soup to distribute the cream and yogurt. Optionally, strain the soup through a fine-mesh sieve for a more refined velvety-textured soup.Return to pot and season with salt to taste.
Serve in warm bowls topped with minced chives, a sprinkle of the hazelnuts and a few drops of hazelnut oil.
Yields approximately 2½ quarts  of soup.
Bon Appetit, and Cheers!