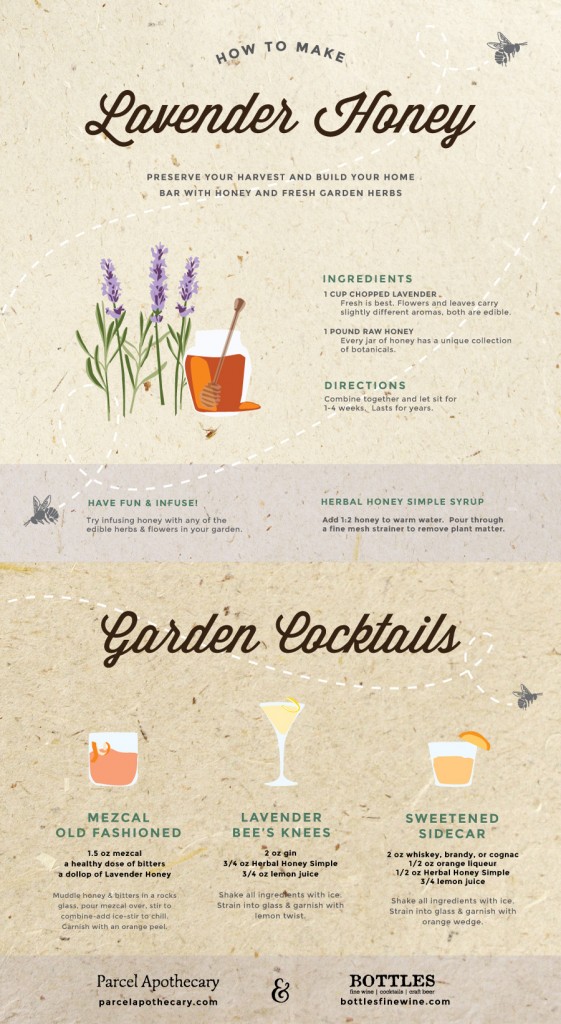 Shoutout to the pollinators in the garden!
A bee's daily collection of plant nectar and pollen allows many of our agricultural crops to create seed and fruit, with the stars of the workforce being the honeybee. They make a medicinal alternative to white sugar behind the bar: honey.
Raw honey never spoils, contains every essential nutrient needed for life, and has 30% less calories compared to white sugar. Bonus.
When combined with lavender, a powerful aromatic from the Mediterranean, the herb's essential oils becomes less volatile and more earthy.  It's my favorite way to "take" lavender internally.
Lavender Honey:
You can preserve your harvest and build your home bar with honey and fresh garden herbs.
INGREDIENTS
1 cup chopped Lavender (fresh is best)
– flowers and leaves carry slightly different aromas, both are edible
1 pound raw honey
– every jar of honey has a unique collection of botanicals
DIRECTIONS
Combine together and let sit for 1- 4 weeks.  Lasts for years.
To make an Herbal Honey Simple Syrup: Add 1:2 honey to warm water. Pour through a fine mesh strainer to remove plant matter.
Cocktail Recipes
Mezcal Old Fashioned

INGREDIENTS
– 1.5 oz mezcal
– a healthy dose of bitters
– a dollop of Lavender Honey
DIRECTIONS: Muddle honey & bitters in a rocks glass, pour mezcal over, stir to combine—add ice—stir to chill, garnish with an orange peel.
Lavender Bee's Knees

INGREDIENTS
2 oz gin
3/4 oz Herbal Honey Simple
3/4 oz lemon juice
DIRECTIONS: Shake all ingredients with ice. Strain into glass & garnish with lemon twist.
Sweetened Sidecar
INGREDIENTS
2 oz whiskey, brandy, or cognac
1/2 oz orange liqueur
1/2 oz Herbal Honey Simple
3/4 lemon juice
DIRECTIONS: Shake all ingredients with ice. Strain into glass & garnish with orange wedge.
Try infusing honey with any of the edible herbs & flowers in your garden.  To gather what's growing on the Parcel farm, check out Jessyloo's website: www.ParcelApothecary.com
Stop by Bottles to pick up the bottled ingredients and home bar tools you need!