And you want to get to know him.
If you've been in the store over the past few weeks you've probably noticed a tall, Irish-lookin' fella with a warm smile on the floor. He's Josh Shields, and he's our new General Manager. Josh has wine, beer & spirits smarts in spades and we're sure glad to have him.
Josh will tell you he rarely drinks the same beverage twice in a row. He's got several years of experience at three highly-regarded New England wine shops under his belt. His time working harvest at a 3rd Growth Chateau in Bordeaux is something he's still high about.
Oh, and he helped manage the world's largest private wine cellar – we're talking north of 750,000 bottles – while a sommelier at the legendary Tampa-based Bern's Steak House. The 60-year-old restaurant that just won the James Beard Award for Outstanding Wine Service? Yeah, that one.
And he's an all-around great guy, to boot. Easy-going, smart, funny and easy to work with, Josh fits right into the Bottles family. Read on for Katie's Q&A with Josh to see why we think he's not only a spectacular addition to the out team, but to the RI beverage scene as a whole.
Katie: Let's start with an easy one: If you could have only one bottle for the rest of your time, what would it be?
Josh: That's not easy! That said, at Bern's I learned two things I never wanted to know about myself. That I like Old Burgundy and ancient Madeira. Two things I'll never be able to afford. But if I had to pick one style it would be aged Bordeaux. '61 if we're just getting silly. Why not.
K: Sounds like Bern's was quite a place to work. You were there for 5 years, managing their wine list, which at one point hovered around 1 million bottles. What was that like?
J: For starters it wasn't just me. It was definitely a team effort of about three somms and David Laxer, and the restaurant's current owner and son of founder Bernard "Bern" Laxer.  And it was thrilling. Mr. Laxer, who founded the restaurant 60 years ago was an amazing, truly self-made man – he built the whole thing through relationships with producers, bankers and customers. Living up to the legacy of the people that built the cellar was the hardest  – but best  – part of my time at Bern's. I considered myself a docent rather than a wine manager. And then there's also the wine I had the opportunity to taste. I got to taste a lot of Really. Great. Wine. Nearly all of the best wines I've had in my life were at Bern's. It was quite an education.
K: How did you help guests find their way through that huge list?
J: That was another exciting part about the job that I really liked. It was a busy restaurant – anywhere from 500-600 up to 1,200 covers a night – and there were typically only two somms on! As one of the sommeliers I had the opportunity to wade through that entire list, and take a guest who wanted to spend, you know, $200 on a big name bottle, and convince them they could spend $100 on something they'd never heard of, and they'd be happier with that choice. I called it shotgun somm-ing. After reading the table I'd basically whittle the whole list down to two options. They'd pick A or B, I'd pour the wine for them, and then I'd go back a few minutes later and right then and there I'd know whether I'd hit a homerun or struck out. It was one of the coolest places I've ever worked, without a doubt. I learned how to successfully read people. Knowing what type of service and product guests want – without getting much verbal input from them – is a critical skill to have on the floor of a retail store or restaurant.
K: What's the most memorable wine and/or spirit that you've ever had?
J: Tough question. At the steakhouse we saw things that were totally unique – things that just shouldn't have existed. One that always jumps to mind was a 1947 Fleurie (a cru Beaujolais) which there's absolutely no way that wine should have been still around. That wine should have been dead 20 years before I was born and it was stunning, it really was – for 45 minutes, and then it fell apart. Also, I'll never forget the pre-World War One wines I had the honor of tasting. Thinking about what that wine went through to get to you. Amazing.
But if you want to know the wine I'd miss car payments to pay for? 1967 d'Yquem. I don't mean to name drop, but what an exquisite wine. '67 was a horrible year for Bordeaux, it was wet, it was cold, it was just not a perfect vintage for still wine, but it made this amazing dessert wine, and there's not a lot of it to be had.
K: What's your favorite food & beverage pairing?
J: The one I'll never forget was my first: In my early 20s I paired Aventinus and Thin Mints. I was very proud of that! Try it! It still works! My pairing philosophy, which I learned from my boss and mentor at a wine shop in Western Mass, is: drink what you like, and work backwards from there. The pairing isn't going to work if pros say it does but you don't like the wine. For someone who's just starting to develop their likes and dislikes, I do suggest the classic pairing guideline of "what grows with it, goes with it." It's never failed me.
K: What are your plans for the store in the coming year?
J: The most important thing for me — and most challenging — will be to maintain what you guys at Bottles have already built. I know it sounds like a cheesy answer and it's not meant to – it's true. Your community of involved customers is rare – I'll take tremendous pride in carrying that stewardship on. In addition, I'm here to help take some of the workload off of Nick so he can continue to evolve and develop the stunning wine program he's built. And Eric and Liam, who will be spending some time on business development, will never be far away, either. Thankfully.
In terms of inventory there are certain things that I feel passionate about so I'll be fleshing them out more. If you couldn't tell already – I really like vintage Bordeaux. So if there's a market for it in this town I'd like to grow it. Last year I spent a good amount of time in France, working harvest and vintage at Chateau Giscours, in Margaux (Bordeaux). I also planted 7,200 little merlot and cabernet sauvignon grapevines.  They'll be there for 40 years! Still mentally riding the high from that so yeah, I'll bring those wines into the store too.
And soju – I love soju – and good soju is hard to find.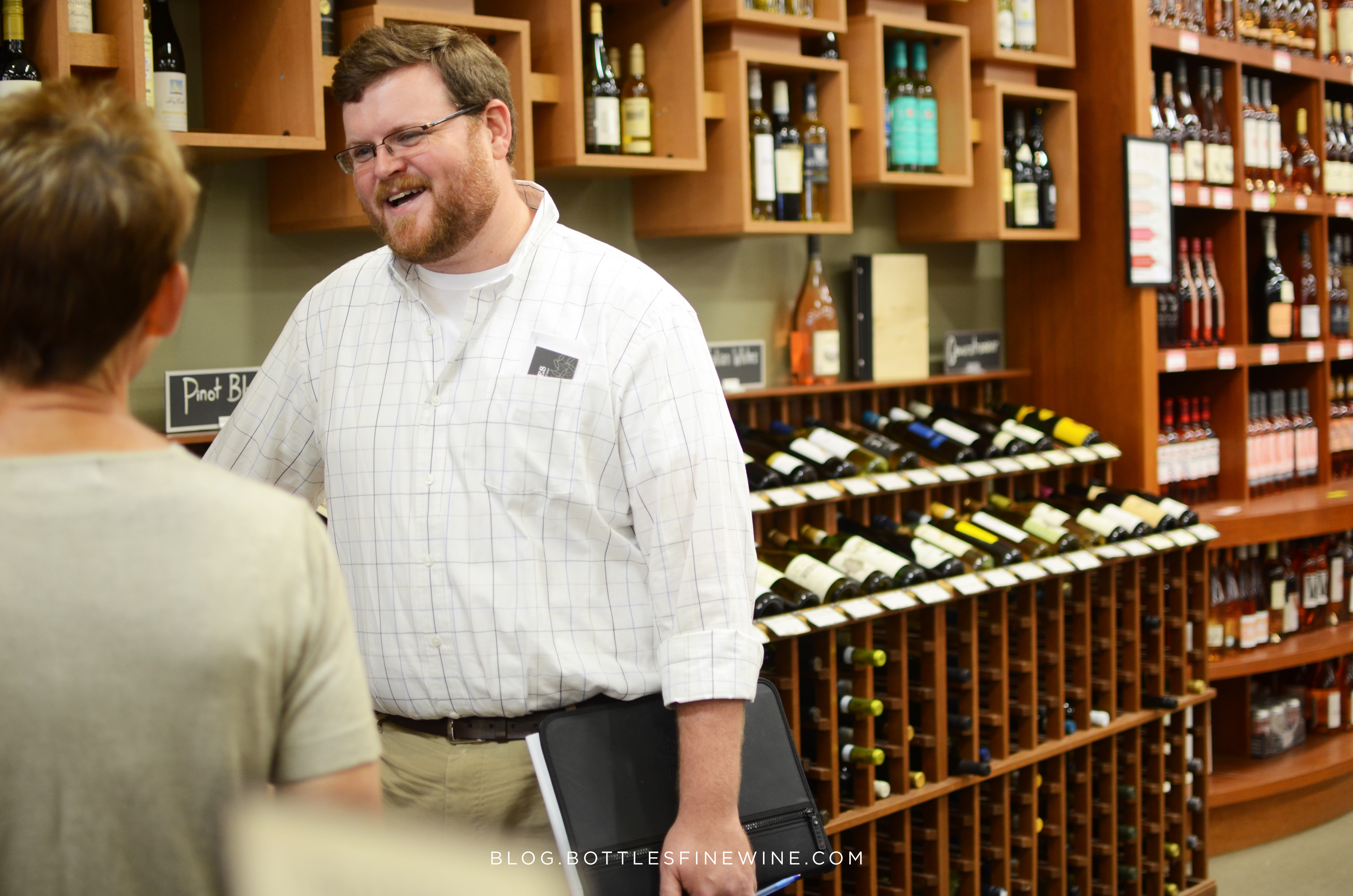 K: Getting adjusted to a new town and job is demanding. When you do have free time again, what will you be doing?
J: I'm a history buff, so there's always that. Also, sports, and catching up with old friends.
K: Red Sox or Rays? Or  Bruins or Lighting?
J: I grew up in Sutton and Uxbridge, and never lost my MA sports roots despite getting lots of grief from the Tampa guys. So Red Sox & Bruins all the way. That said, the Lighting guys were really nice guys! Insanely nice guys. In my experience hockey players tend to be the nicest of the sports groups.
K: If you could have dinner with any 3 people in the world, living or dead, who would they be?
J: Bill Belichik, Marcus Aurelius & Hunter S. Thompson. Can I also add My dad? And Talleyrand?
K: Of course you can add your dad. What's with the historical guys?
J: I have a degree in Military History and Political Science from UMass Amherst, and studied in Northern Ireland and planned to build a career in ethnic conflict resolution. Unfortunately, languages are not my thing – and that field of work is hyper competitive. I studied it because I've always like history and mediation was the most fascinating aspect of it and the most applicable and practical aspect of it.
K: Let's hope you never have to use those skills here at Bottles. How has it been adjusting to Providence?
J: The adjustments are pretty basic. Just learning which products are carried by which distributors and the nuances of the RI beverage law. In terms of other cool things is the local product – there's a lot of cool locally made products that I'm just learning about.
K:  You've traveled quite a bit. Where would you most like to live?
J: I'm here! I've had options to live all over the world, but I'm happy to be home, back in New England.
You'll find Josh at Bottles most days of the week. Please come by to introduce yourself to him – and to test his beverage know-how with your toughest questions!
###