Note: in Japan, as in Scotland, it's 'Whisky', not 'Whiskey.'
As a category, Japanese Whisky has grown over 200% in the last year alone, and it doesn't show any signs of slowing. Japan's major distilleries have won many prestigious awards and accolades over the last decade, often outshining their Scottish and American counterparts. So why haven't you heard of them? And if you have heard of them, why can't you find them?
When we opened Bottles more than 6 years ago, we had a slew of beautifully aged Japanese Whiskys on our shelves. 12-year-old expressions from Hakushu, 18- and 21- year-old bottlings from Yoichi, among a handful of others. There they sat, lonely on the shelf, gazing with envy at their Scottish single malt buddies who were out having fun.
As the current whisky boom amped up, more and more people began reading articles about different bourbons, ryes, and malt whiskies. Whisky writers and bloggers could explore new areas of the world that people had previously overlooked. Folks started to pay attention and take the leap of faith to try these 'new' whiskies from Japan, or Taiwan, or India, or Tasmania. They found a lot to like, and the bottles started moving off our shelves.
When any distillery makes whisky, it invests a tremendous amount of time and money into each release. The whisky must sit in a barrel for a good long time before it's ready to be bottled, which means the distillers are also forced to sit and wait for years (and often decades) before they make a profit from that work. It's easy to understand why, without knowing how successful their bottles would be at market, these distillers produced their whiskys in small quantities. Though some of the world's oldest distilleries are experienced enough to forecast how much whisky they need to distill today so they can ensure that they have enough to meet demand in 8, 10 or 15 years, a lot of the 'newer' Japanese distilleries just didn't have enough of a track-record to predict this massive growth decades ago. Hence the short supply today.
So now we wait. The master distillers of Japan are working harder than ever, but you can't make more 18-year-old whisky without waiting 18 years! In the meantime, please try some of the Japanese whiskies that you can buy, now. They are soft, elegant whiskys, based on a Scottish foundation of whisky-making with a distinctly Japanese style of simple elegance & proficiency.
The Distilleries and Their Whiskys
Beam-Suntory operates three distilleries: Yamazaki, Hakushu, & Chita.
-Yamazaki (Japan's oldest distillery) opened in 1923 at the convergence of the soft waters of the Katsura, Uji, and Kizu rivers. Nestled in this temperate, humid valley, Yamazaki is known as a soft & supple single malt with a unique house character.
-The Hakushu Distillery opened in 1973 in the forests of Mt. Kaikomagatake. Hakushu takes pride in its waters, clean and crisp from rain and snowmelt filtered through granite. These whiskys are notable for the spice flavors they impart in the finish, and an easy way with their oak aging.
-Chita is the workhorse of the Beam-Suntory stable, producing three distinctive world class grain whiskys (mainly used for blending) out of corn and grain. The Chita Single Grain whisky finds it's voice in many of the blends that Beam-Suntory produces.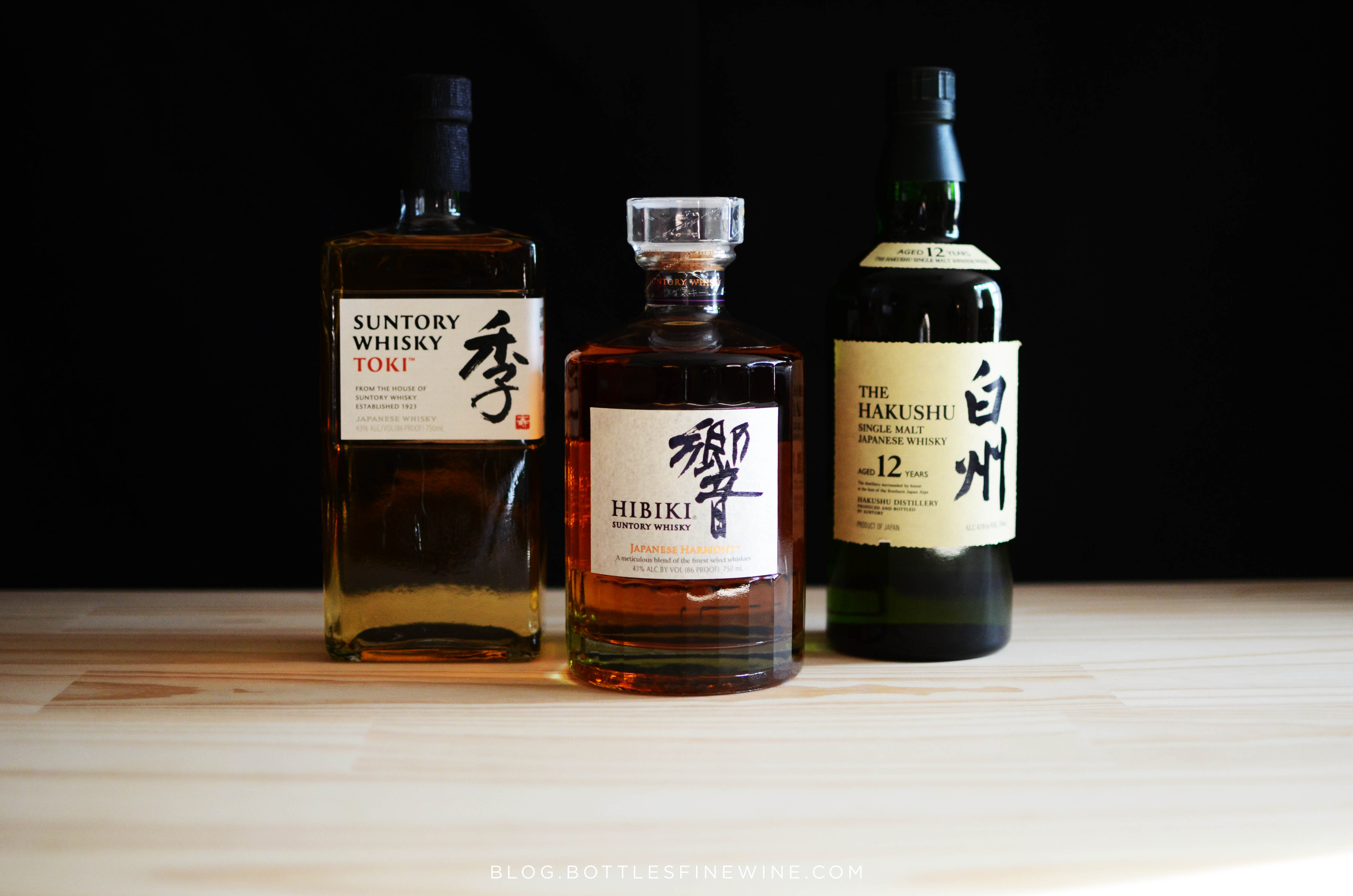 Beam-Suntory Toki – $39.99
Toki is a brand-new expression from Beam-Suntory, comprised of the silky body of Chita single grain, Hakushu's strength & oakiness, and select older malts from Yamazaki for spice and elegance. A light and approachable blend, equally suited to sipping over a large ice cube or mixing in cocktails. They suggest making a highball, we like it in a Whisky Sour.
Beam-Suntory Hibiki Japanese Harmony – $64.99
Another blend from the Chita, Yamazaki, and Hakushu distilleries, Japanese Harmony focuses on a more robust experience, with an emphasis on the flavors that different types of casks can impart. The malts are aged in American white oak, sherry butts, and Japanese Mizunara casks. The results drink very much like a fine Scottish single malt, but with less sherry influence. To be enjoyed neat, or slowly poured over a large ice ball.
Beam-Suntory Hakushu 12 Year – $99.99
This is it. Get it while you can. One of the last 12-year-old single malts from Japan we were able to get our hands on. A beautiful spirit, composed entirely of whisky distilled and aged at Hakushu. Subtly smoky, it has flavors & aromas of basil, pine, and green tea. A little water will coax our fruity flavors like green apple, mint, and kiwi.
Nikka operates two distilleries: Yoichi and Miyagikyo.
-The Yoichi distillery was founded on Hokkaido in 1934. To this day, they craft their whisky in copper pot stills, heated with a direct coal fire – an extremely rare and labor intensive practice that produces wonderful results.
-In 1969, Nikka opened a second distillery, Miyagikyo, on the island of Honshu. Known for its pristine water and myriad waterfalls and hot springs, Miyagikyo produces a single grain whisky of uncommon quality and body.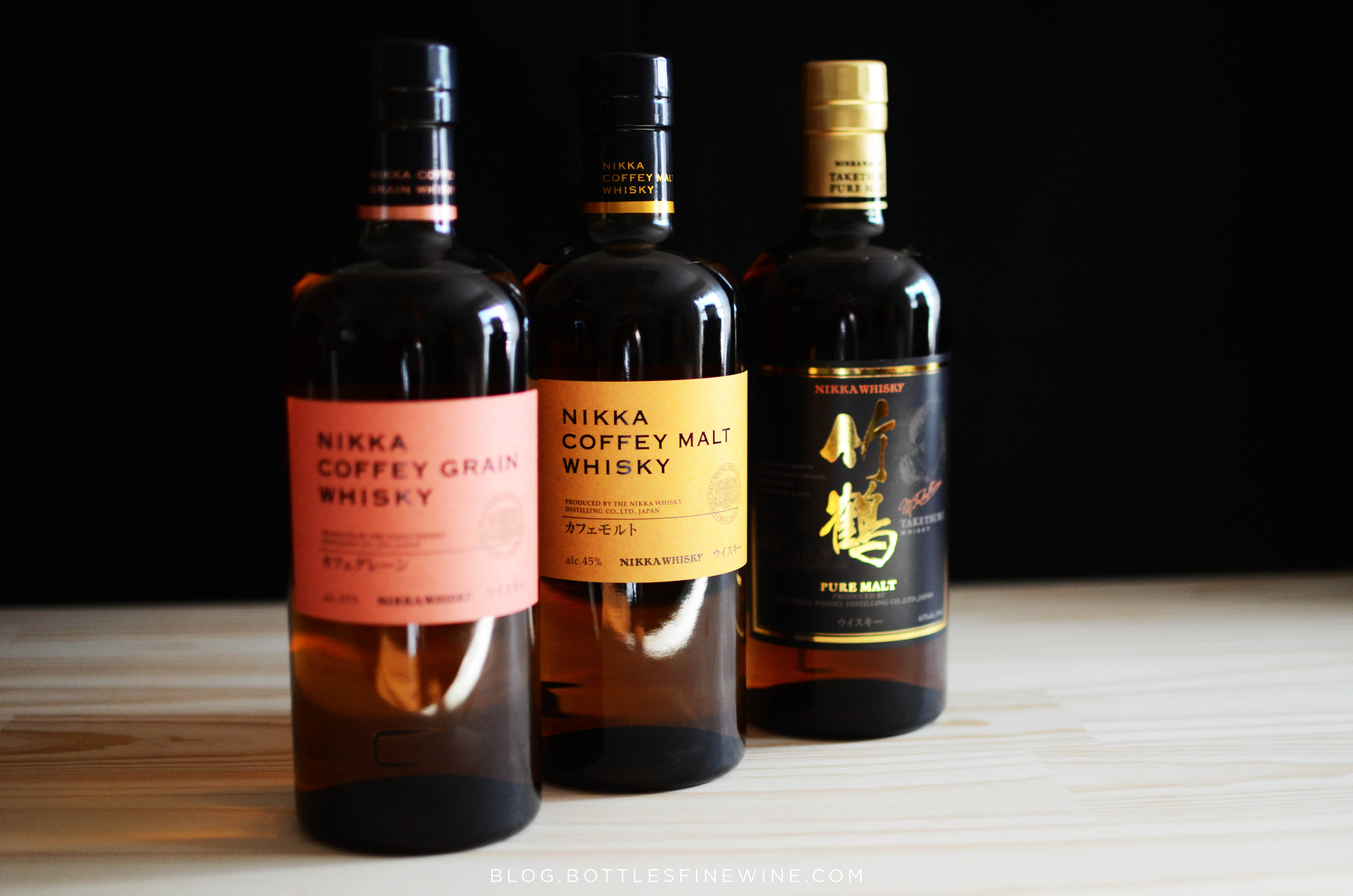 Nikka Coffey Grain – $64.99
Named for the Coffey stills they use to create the whisky (there is no coffee in this whisky!), the Coffey Grain is made primarily from corn, and has an impressively silky body, with a touch of vanilla and citrus. It's best over the rocks, or in a variation of an old-fashioned or manhattan.
Nikka Coffey Malt – $64.99
The Coffey Malt is extremely unusual – a 100% malted barley spirit run off a continuous still. It has a rich and pleasant body, with a fresh grain quality akin to toasty grape nuts and freshly baked bread. It will stand up to most classic bourbon cocktails – we like it mixed with a splash of Italian Alessio Chinato vermouth.
Nikka Taketsuru Pure Malt – $64.99
The Pure Malt is a delightful blend of spirits from both distilleries. Utilizing a combination of new American, ex-bourbon, and sherry casks, the Pure Malt is much closer to a traditional Scottish malt, with flavors of honey & char, espresso & chocolate, & a final hint of smokiness.
Come by and talk to one of our team members for insight on their favorite bottles – we're sure you'll find you're favorite, too.
Kanpai!
-Liam
###