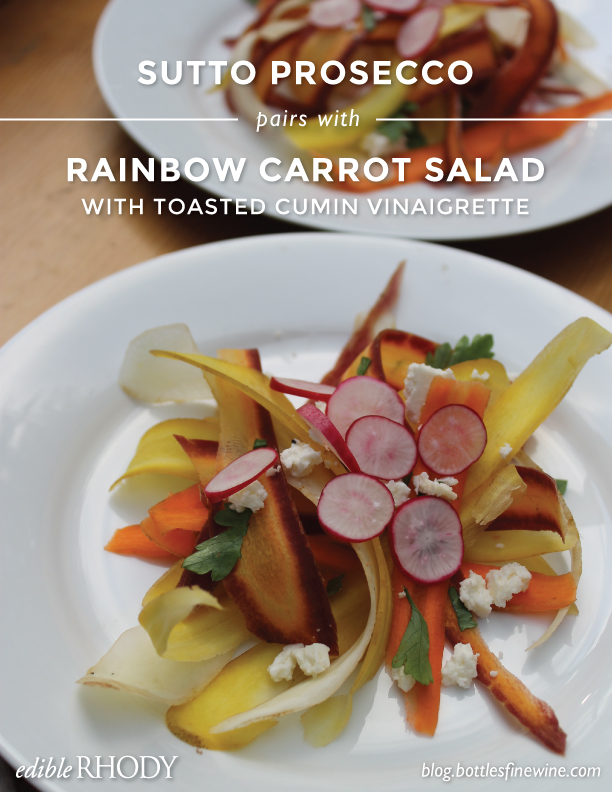 A glass of bubbly is a great way to start your Thanksgiving dinner! We're digging on Sutto Prosecco (from our Top 9 Thanksgiving Wine List) — it's fresh, vibrant, and a treat everyone will enjoy along with special holiday salads. Try pairing it with Edible Rhody's Rainbow Carrot Salad with Toasted Cumin Vinaigrette, featured in their recent fall issue.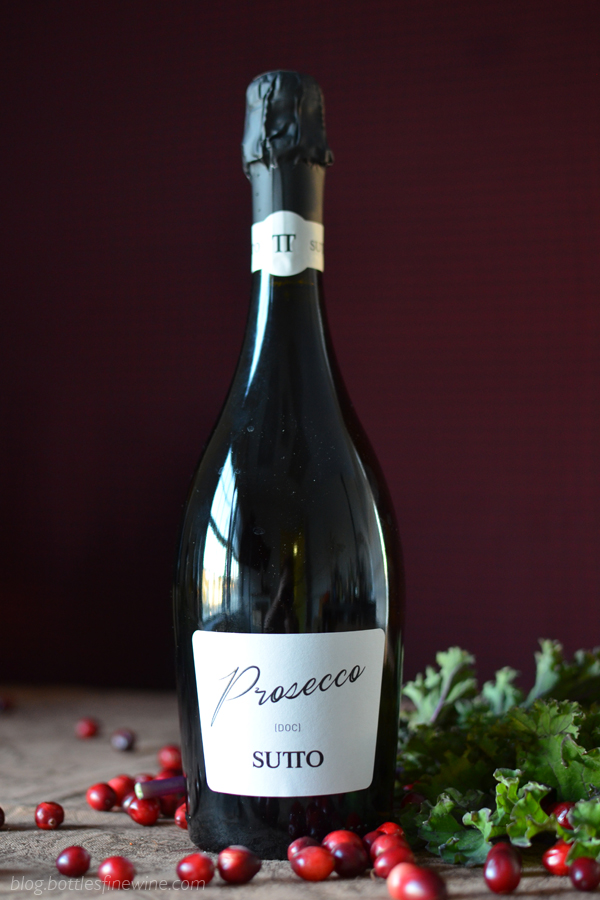 The Prosecco is a perfect match with the earthy sweet carrots, crunchy crisp radishes and salty/sweet feta cheese. The lively bubbles are a lively contrast to the flavors of the veggies and the savory qualities of the cumin vinaigrette.  A great way to start the meal!
RAINBOW CARROT SALAD WITH TOASTED CUMIN VINAIGRETTE
Ben Wood, WildWood Catering, Kingston
Thanksgiving falls right at a wonderful time of the New England harvest. Flavorful rainbow carrots are among the bounty. Serve this raw carrot salad at your feast as a vibrant contrast to the traditional Thanksgiving fare.
Salad:
2 pounds rainbow carrots, well-washed
¼ cup fresh chives, cleaned and chopped
¼ cup flat-leaf parsley, cleaned and chopped
6–8 Breakfast radishes
1 cup (¼ pound) Narragansett Creamery Salty Sea Feta, crumbled
Grated zest of ½ lemon
Kosher or sea salt
Freshly ground black pepper
Edible flowers (optional)
Dressing:
½ teaspoon ground cumin
3 tablespoon sugar
¼ cup apple cider vinegar
½ cup extra-virgin olive oil
For salad, trim carrot tops and, using a vegetable peeler, shave the carrots lengthwise into long, thin 3- to 4-inch ribbons. Place carrot ribbons into bowl. Toss in herbs with carrots. Slice radishes lengthwise as thin as possible; use mandolin if accessible.
For dressing, heat small skillet on medium heat for 1 minute, add ground cumin and cook for 1 minute, shaking pan constantly, or until cumin is slightly darkened and fragrant. In a small bowl add vinegar and sugar together, then whisk in toasted cumin and olive oil. Add a pinch of salt and pepper to taste.
To serve, season carrots and herbs with dressing just before serving and top with feta cheese, shaved radishes, a sprinkle of salt, pepper and lemon zest. Garnish with edible flowers if possible—we love Indie Growers in Bristol! Serves 6–8 people as a first course.
Enjoy this fun and creative dish! Cin Cin!
Cheers, 
The Bottles Team