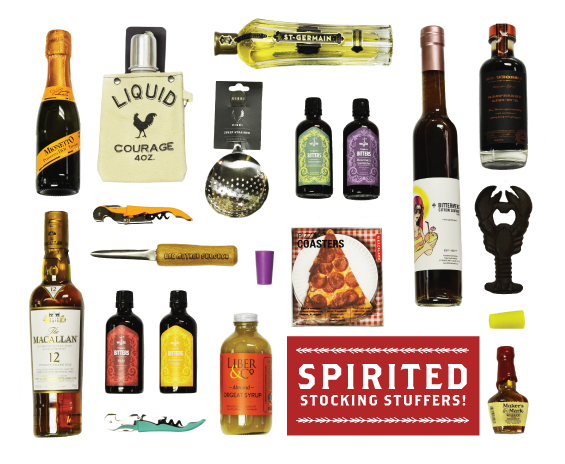 Don't short shrift your stocking stuffing. Here's a sampling of the hundreds of stocking-sized stuffers we have in store for the drinks enthusiast on your list. From left to right, top to bottom:
Mini Bottles of Bubbles: 187ml of fizzy fun (that's just over a glass to you and me) from Champagne to cava and a few styles in between.
Shown: Mionetto Brut Prosecco $5.99
Canvas Flask – Made in the USA, pocket-sized for big fun with the filler of your choice.
Multiple styles, $14.99 each
Viski Julep Strainer – a bar staple not just for juleps!
$9.99
St. Germain – the most beautiful bottle in the store, palm sized.
$13.99
Wigle Bitters – made with small-batch, organic Wigle whiskey and infused with all matter of deliciousness.
4 available flavors: Aromatic, Rosemary & Lavender, Orange Pomander, Molé, $17.99 each
Bittermens Citron Sauvage Liqueur – a bitter grapefruit aperitif for those who love to play with their cocktails.
$14.99
St. George Raspberry Liqueur – precisely flavored liqueurs, ideal for sipping and mixing, from CA with love.
Raspberry (shown) and Spiced Pear, $17.99 each
Macallan 12-Year Half Bottle –  a perfect fit for Scotch lovers!
375ml, $34.99
Multi-Colored Pull-Tap Corkscrews – the cork extractor of choice among wine professionals.
Several colors, $5.99 each
"Bad Mother Shucker" Oyster Knives – engraved by our sister studio, The Engraved Bottle. $9.49
Silicone Corks – a colorful way to keep your wine fresh!
Available in purple, blue, green, red, pink and yellow, $1.99 each
Pizza Coasters – a set of 3 flavors (pepperoni, cheese & veggie).
$4.99 for a stack of 12
Iron Lobster Bottle Opener – for the New Englander in us all.
$6.99
Liber & Co. Orgeat Syrup – made with real roasted almonds. Can't make a Mai Tai without it. 8.5oz, $8.99
Nips – With its real wax coating, the Maker's Mark mini-bottle is one of our favorites from the over 50 we have in store.
Various spirits, starting at $1.49
Happy Stocking!
###