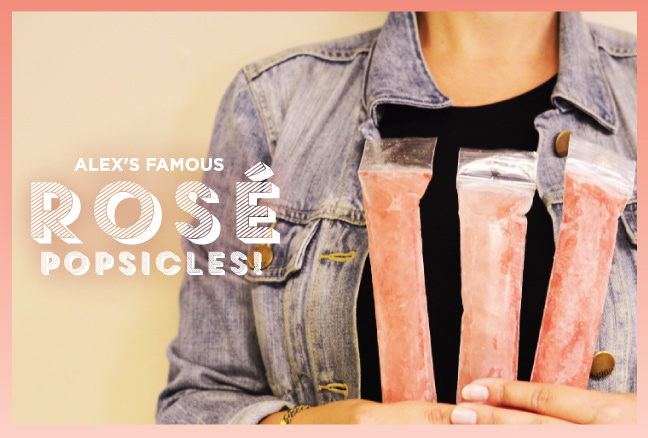 It's mid-August and summer is nearly over (don't shoot the messenger). We might be sick of tomato sandwiches, sick of already seeing Halloween decorations and sick of seeing school supplies (why does that still make me anxious when I'm not even a student or a teacher?!) One thing that we are definitely not sick of, however, is rosè. It's been the star of the summer and for these last couple weeks of sweltering August heat, we recommend serving it up all icy and on a stick, or in a good 'ole push-up bag.
Below is a recipe for our rosè popsicles. Since the batch we make yields a large amount, we should tell you to serve them at your next BBQ or picnic, but there is no reason you couldn't scale this down and whip up a batch to keep in your freezer for any night of the week. You deserve it.
PS. Any leftover unfrozen rosè juice makes a delicious drink to sip over ice!
Ingredients
One 750ml bottle rosè of your choice (we recommend something dry but with a good boost of fruitiness. Ask a Bottles team member and they'll steer you in the right direction.)
One 750ml bottle sparkling water
8 oz. simple syrup
16 oz. fruit juice (we recommend watermelon, berry or grapefruit. Take a sip of your rosè and see what flavors you think would match best.)
Tools
Mold of choice (we've used things from loaf pans to muffin tins to plastic cups to inexpensive plastic bags easily found on Amazon.)
Popsicle sticks, if using
Instructions
Combine all ingredients and stir vigorously. Pour your concoction into your desired molds, freeze for at least12 hours (it'll be worth it). If you're using the push-up bags, be sure to leave an inch or more at the top, as the popsicle will expand as it freezes.
Serve 'em up and enjoy those last licks of summer.
xoxo Alex