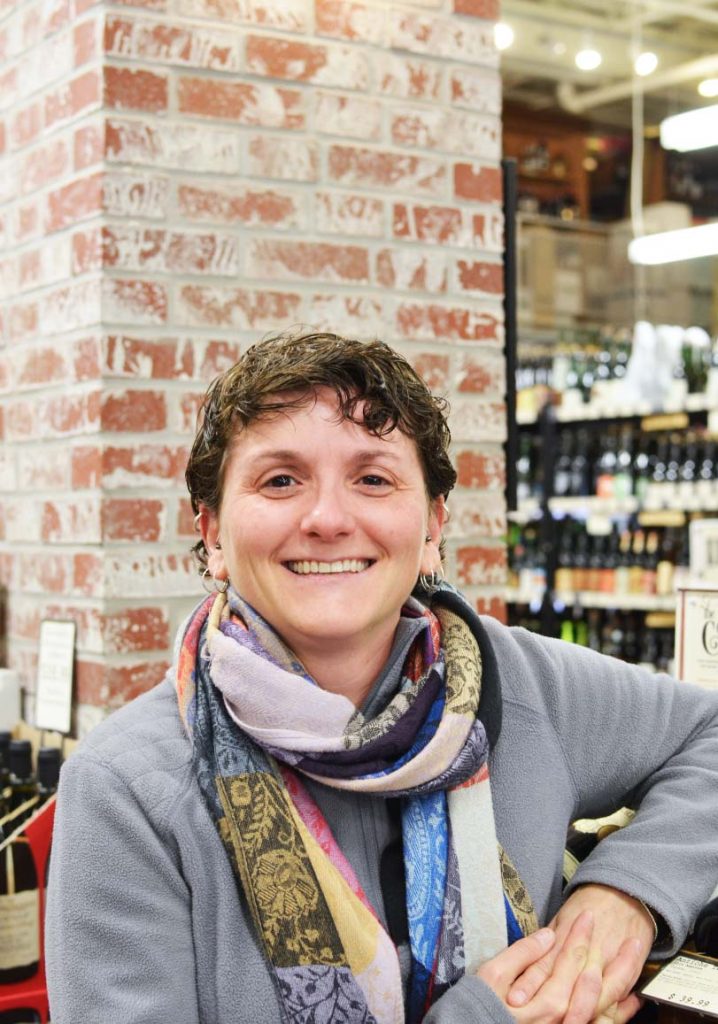 We're so happy to introduce you to our new Wine Director, Melissa Principe. She's a native Chicagoan who recently relocated to Rhode Island to give life on the East Coast a try. Prior to making the road trip to Providence with her co-pilot Piccolo (a two-year-old mini black lab), Melissa was in charge of the wine, beer and spirits programs for a popular speciality market chain of stores all throughout Illinois. She has scads of hospitality experience, having served as general manager and sommelier at various restaurants in Chicagoland, and was the Wine Director for the award-winning Tasting Room/Randolph Wine Cellars. Melissa has seven (seven!) older brothers, loves Sicilian and South American wines, is studying for her Masters of Wine, and is a killer bocce player. Though she's incredibly busy adjusting to life in Rhode Island and getting to know the Bottles family of customers, Melissa took a few minutes to tell us a bit about herself.
Why wine. What sparked your interest in wine?
I grew up with it. My mother is Sicilian and my father is from Calabria. So there was always wine on the table. I've been down many other paths in my professional life, but wine is one of few things that's kept my interest all along.
What are you most excited about in the wine world today?
I really like the fact that there are younger winemakers that are going back to the "old school" way of making wine. I've been lucky to travel a lot, and what I'm seeing is that there are more and more winemakers who are concerned about making sure that they're taking care of their sense of place in terms of sustainability, organic practices, and biodynamics. I am obsessed with biodynamics, and a bit of a soil nerd. These things are so important to wine. Look back at the past two years. There hasn't been one wine-making region that hasn't been majorly affected by the super hot summers and changing weather patterns. It's smacking you in the face! So there's more consciousness around how we're treating our land and our vineyards. This is good.
What's underappreciated in the wine world today?
Port and other fortified wines. I don't fully understand it, but turning women on to Port is a huge challenge! Maybe because there's still the stereotype that Port is a stuffy Englishman's drink to be sipped while smoking cigars. We all should totally be drinking more of it. Fortified wines in general get overlooked – and they shouldn't. They are lovely.
How have you found success within the world of wine?
Through education and storytelling. I love to teach, and I'm a stickler for education. I have huge expectations for my staff. I'll be there to help them reach those expectations every step of the way, so that we're all able to serve our customers in the best possible way. I view our roles as storytellers – and that's really important to me. Before a customer buys a bottle, we're the last professional that has hands on it. That's a pretty serious job to me. We better know all about that wine. We better know that winemaker's story. Also, I like to be on the floor. I really like to talk about wine, to get people excited about wine. I like to engage guests – to ask lots of questions so I can fully understand what they're looking for.
Though you've only been at Bottles for a few weeks, do you have any plans for the wine program that you can share?
I like sustainability – I'm nuts about biodynamic wines. So you may see more of those. Along with Sicilian and South American wines. And fortified wines. Things like this and more, which will balance all that Josh (Bottles' General Manager) has brought in. Our palates are very different – he's all about France, which is so great for us – and I can't pick just one region. We're a great match – it's a great balance between the two of us – and the shelves will be reflective of that.
What's Your "Desert Island" Wine?
The wine that changed everything for me was the 1987 Casanova di Neri Brunello di Montalcino Riserva White Label. Everything about it was amazing. Everyone who's into wine has a bottle they chase – this is that bottle for me. I'll also never forget the Barros '82 Colheita, which I hope to bringing into the store soon. And lastly, the Andre Clouet Brut Reserve Rosé. You want to bathe in it.
Why Providence?
I still love Chicago but I was ready for a change. In addition to a milder winter (!) I'm looking forward doing business in this smaller market. Rhode Island hasn't been taken over by big business quite yet. Coming from a big city I saw the impact that letting the big guys take over had on selection and service. It's so depressing to taste an amazing bottle of wine in rural Italy and know that it wouldn't stand a chance in getting into a market dominated by chains. It's stores like Bottles that give me hope in the face of the big guys.
What will you miss most about Chicago?
Sunday dinner with my brother and sister-in-law.
When you're not working, what are you doing?
Hanging out with my dog Piccolo, cooking, or studying. I'm in the middle of my Master's of Wine program.
What's your favorite wine pairing?
Mayu and The Chicago Blend. Mayu is a Chilean producer and has a red blend of carmenere & syrah. The Chicago blend is a mix of caramel corn and cheese popcorn. It's ridiculous. It's totally goofy and it totally works.
If you could have a dinner party with any three people in the world, who would they be?
One, the wine writer Jancis Robinson. I love her writing, the way she thinks and talks about wine. She was the first female Master of Wine and was at the 1976 Judgement of Paris, and I'd love to pick her brain on a thousand different things. Another would be Ruth Bader Ginsburg: I'd want to know what her desert island wine is, among other things, of course. And the third would be my amazing niece Francesca with whom I'm incredibly close, because these are two women she should have the experience of sitting down and having dinner with.
Next time you're in store, be sure to look for Melissa and say hello. And stay tuned for more from her in the weeks to come!
# # #