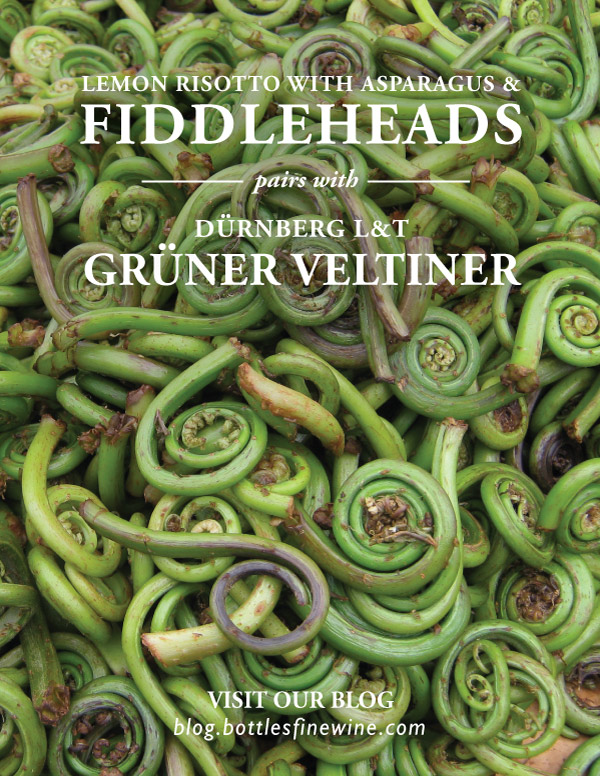 It is officially Spring! What better way to celebrate than with Fiddleheads, a vegetable that is only harvested for about two weeks. Fiddleheads have a flavor profile similar to asparagus and spinach, and we suggest pairing these short lived vegetables with a light, dry, and refreshing wine, Grüner Veltliner.
Fiddleheads
Named fiddleheads because they resemble the scroll of a stringed instrument, they are the furled fronds of a young fern. Though wild and technically a fern, they are picked young for use as a vegetable. A regional delicacy in New England, Quebec, Ontario and the Maritimes, fiddleheads are rich in iron and potassium with antioxidant properties. Fiddlehead patches are found in forests along the flood plains of rivers, and their locations are a closely guarded secret because of their limited harvest.
– Check out Farm Fresh for where to get these vegetables during the two weeks they are harvested.
– Fiddleheads in Rhode Island are in season from mid-April to mid-May.
– For some more information on Fiddlehead Ferns and other Edible plants in New England check out Native Plants and Wildlife Gardens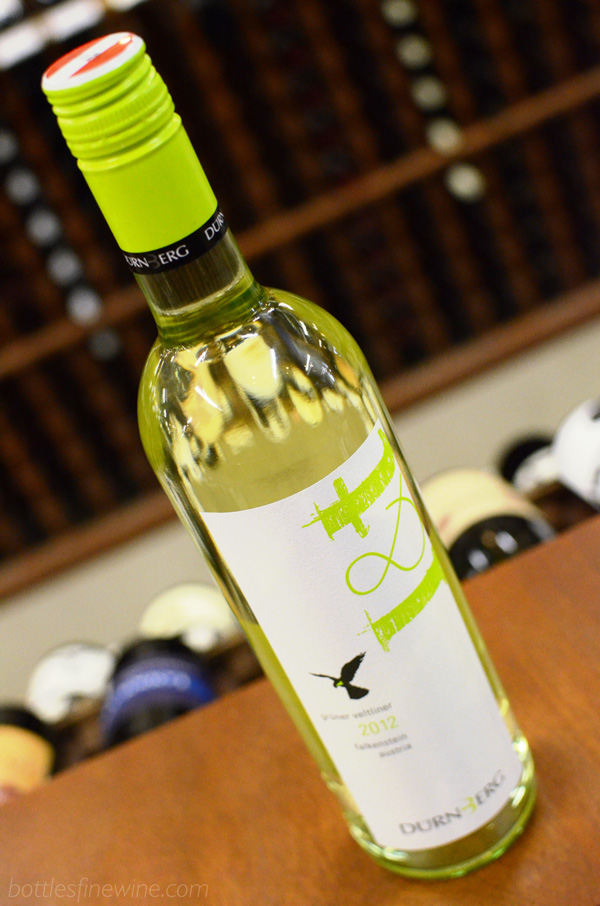 Dürnberg L&T Grüner Veltliner
Located in the heart of the Austrian wine quarter (Weinviertel), the ancient wine village of Falkenstein is home to the Weingut Durnberg and their L&T Grüner Veltliner. Weingut Durnberg is at the forefront of a "new Weinviertel style," with an emphasis on freshness and cool acidity. Winemaker Christoph Körner knows how to bring out the beautiful natural spiciness of the vines in the wine with a clear power of fruit and attractive harmony. Light and dry, this Grüner Veltliner is the perfect wine to pair with Fiddleheads. Its refreshing and easy to drink palate of grapefruit and green apple balances well with the fresh, grassy taste of the vegetables. Grüner Veltliner also pairs very well with Asparagus and other bitter vegetables.
Lemon Risotto with Asparagus and Fiddlehead Ferns
Servings: 4 to 6
Source: The Kitchn

Ingredients:
1½ cups fiddlehead ferns
1½ cups asparagus tips
3 tbsp butter
1½ tsp extra-virgin olive oil
2 large leeks, no dark green parts, diced
2 scallions, white parts only, minced
1 clove garlic minced
2 cups arborio or risotto rice
1/2 cup dry white wine
approximately 5½ cups hot vegetable or chicken stock
zest of 1 large lemon
1/2 cup grated parmesan cheese
Method of Preparation:
1. Prep the vegetables, ready a large bowl of ice water and bring a medium sized pot of water to a boil.
2. Wash the fiddlehead ferns thoroughly and then rub them with a kitchen towel to remove any of the brown paper-like chaff. Cut off all brown tips and blemishes and then rinse again.
3. Blanch both the asparagus and fiddlehead ferns for about 2 minutes by placing them in the boiling water and then once they are bright green, transfer them to the ice water to stop them from cooking.
4. Heat the broth to a simmer and then cover and keep warm over medium-low heat.
5. Heat the oil and 1½ tbsp of butter in a large heavy-bottomed pot over medium heat. Add the diced leeks, scallions and garlic and sauté about 5 minutes, until almost translucent.
6. Add rice to the pot and stir continuously until the grains are translucent at the edges but opaque in the center.
7. Add the wine, and stir until it is almost completely absorbed.
8. Add the warm stock cup by cup, stirring until the rice has absorbed nearly each cup before adding the next cup.
9. When the rice is almost done, about 15 minutes, stir in the blanched and drained vegetables and the lemon zest. Stir in the last 1/2 cup of stock, cheese and remaining butter.
10. Serve immediately.
*Fiddlehead ferns have a toxin that can cause stomach distress when eaten raw. The health department recommends cooking them for 10 to 15 minutes you may wish to add the fiddleheads to the risotto earlier than the asparagus to give it some extra cooking time.
Cheers!
Kimberly Vroegindewey