Eric Taylor, Bottles' General Manager, and Curt Columbus, the Richard L. Bready Artistic Director of Trinity Repertory Company, at Bottles.
Curt Columbus, the Richard L. Bready Artistic Director of Providence's internationally acclaimed Trinity Repertory Company and wine lover, visited Bottles in March to talk with our General Manager, Eric Taylor, about "Curt's Picks," our new "pairing" partnership.
Beginning with their production of Arnie Louis and Bob, which opens on April 7, 2016, Trinity Rep will offer "Curt's Picks," wines hand-selected by Curt to pair with each show. For this new production, Curt selected cans of the Oregon-made Underwood pinot gris, pinot noir and rosé wines.
"The reason the Underwood cans of wine seem so perfect for the show is that they are like the play – quirky (wine in a can?), unexpected (ditto), and delightful (as in, this is wine in a can?!? Sign me up!!). The aesthetic of the play is also represented by the cans, in that Arnie Louis and Bob is about three ordinary-looking old men, who live extremely ordinary lives (the can), who actually have a magical world of their own (the great wine.)" – Curt Columbus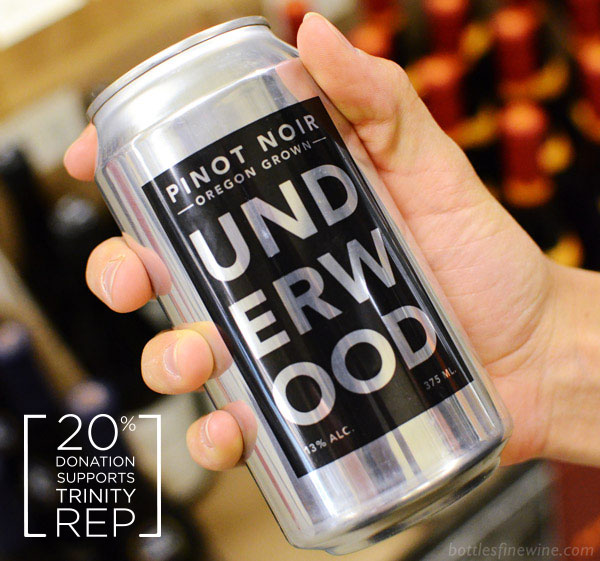 Not only will the wines be available at the theater during performances, Bottles will donate 20% from the sale of all three varieties of the Underwood cans of wine purchased in store back to Trinity Rep.
In addition, as the newly-minted "Official Sommelier of Trinity Repertory Company," (a role we are just tickled pink about), we are working to boost audience members' enjoyment of each production with an enhanced list of wines offered, as well as speciality cocktails paired to each show. (See the show to understand why we chose our Grumpy Cup cocktail for Arnie Louis and Bob!)
Here's an excerpt of Curt and Eric's conversation, in which, over a bottle of Domaine Fonstainte rosé, they discussed their love of wine, and how its magic — like theater — lies in the community and the environment in which you enjoy both.
Curt Columbus:   So here's my thesis: Wine is something that is community based. It brings people together. You (typically) drink it with other people. And in that way it's a lot like the theater. Theater is not something you can do by yourself. It's not something you can play in your basement. It's something you have to experience live.  And in that way, wine is like theater. It enlivens your senses.
The thing I admire about Bottles is that when I come here I feel like my experience has been curated. Tell me, Eric, how'd you get interested in wine.
Eric Taylor: I have always worked in restaurants. I started dishwashing in a little mom and pop German restaurant when I was 14. And I'd have to have my parents drop me off and pick me up before and after my shift. I got the restaurant bug then. I went to college and waited tables at a nice place in Lexington, Kentucky near the University of Kentucky and they had as good of a wine list as did any restaurant in Lexington, Kentucky in the mid-1990s. And it's there I got interested in wine. I later moved to Chicago and worked at a great big fancy restaurant there named Spiaggia.
CC: Are you kidding? I used to deliver pasta to Spiaggia!
ET: Spiaggia had a beautiful sommelier named Henry Bishop and he was absolutely fantastic. He took me under his wing and taught me everything about wine. That's where I really got the wine bug and learned a lot of the theory behind wine. I then moved to Seattle and worked at a giant restaurant named Wild Ginger.
CC: I love Wild Ginger, are you kidding? That's probably the best restaurant in Seattle. Oh my gosh.
ET: They have an extraordinary wine list. And it's in that Washington State wine country where I was really able to understand wine. Because I was able to go out to wine country — I was able to see the grapes as they grew in the vineyards, to see all that happens in the winery, and how it all fits together in a very sensory way. I absolutely love the sensory experience around wine. I love the smell and the color and the taste of wine and I love what it does to people when they get together. And I don't mean drunkenness, I mean community. Just like you said, it is something you need to experience in vivo.
CC: Right! You have to experience it in life. Like the theater, you experience it live.  Wine is like theater in this way, too: People think you need a specialized taste to enjoy wine. I've had people, when I've offered them a glass of wine, say "Oh I don't know anything about wine." And I always respond with "But you know what you like so taste it. If you hate it, throw it down the sink. If you love it, let's talk about other things you love."
ET: Right! You don't have to know a ton about the theater to sit there and appreciate it. You don't have to know anything about wine to put it in your mouth and swallow it. It's either you like it or you don't.
CC: My defining wine experience was in Chicago as well. The restaurant where I worked was called Convito Italiano. It's not there anymore – it burned down. It was a great Italian restaurant. They had a wine and prepared food shop on the first floor. I'm 21 and right out of college and one day a woman named Rhea, the buyer and manager, needed my help with the wine. I said "Rhea, I don't know anything about wine." And she said "Open that bottle. Drink it. Just drink. What do you think?" And again I said "I don't know!" And she said "Tell me what you taste."  I said "Minerals. I taste minerals." And she said "There. Now you know something about wine."
ET: When I teach my wine classes that's what I try to do. I try to talk about turning sensory experiences into words.  
CC: So like the theater, wine for you really is about about experience and how it connects people.
ET: Yes, and the way that we look at wine is that there's always a reason to celebrate. It could be a Tuesday night and your favorite show is on the tube and you're sitting on the couch having wine with your loved ones – or it's a big dinner party on a Friday night. Both of those things are bound by wine.
I feel very passionately about wine – and when I'm selecting what to carry in the store, this is what I'm thinking about: how, and where, and with whom will our customers be enjoying this wine. I'm thinking about all of the different situations where people are drinking wines. This is a great wine for Sunday nights with the family – this will be great with mom's pot roast.
CC: We were just downstairs near the section that is called "The Winter Table." That is a curated experience based around two themes. The first is the kind of food we eat in the season, and the second is this notion of "table." Of the home space. And that is the interesting thing. You've created a narrative around the wines. So cool.
ET: Yes. That's how people live. Wine and food and the experience of "the table" are oftentimes inseparable.
CC: I think that is, in fact, one of reasons why I'm drawn to wine and to food. And you said it at the beginning – I love the sensory experience of wine. And theater does the same thing – it fires on all of your cylinders so you're constantly aware of being alive, which is so great.
ET: Yes!
CC: So I'm looking at your Winter Table display. Rich big food is thematic. But there's a white wine up there. So talk to me because you know this – people are like "Do I drink white? Do I drink red? What do I drink with what? I don't understand!" And there's rosé, my favorite wine. People have no idea what to do with that! In your mind is there a split between white and red when it comes to pairing?
ET:  No. No there isn't. When I have that pairing conversation with people my first question is: "What do you like to drink." And it could be pinot grigio and they're having steaks. Yes! No problem! Wine is about pleasure, wine is about being comfortable and I want people to leave with a bottle of wine that they're comfortable with, regardless of whatever convention dictates.
CC: There you go. That's the really important thing. That wine often gets tied to some convention. Like there's a particular way you're supposed to enjoy it. There's a particular slot that it's supposed to fit into over and over again. I can remember once I had a bottle of 1994 Tignanello. I bought it when I was in Italy and it had been sitting in my cellar for over a decade and I had a friend over who I knew would appreciate this bottle of wine. We had a take and bake pizza and we opened what was probably a $300 or $400 bottle of wine and we drank it. And it was phenomenal. With a take and bake pizza. You know what I mean?
ET:  Yes! And that's the beautiful part of this story! If you had saved that for a special birthday with a special dinner you probably wouldn't have remembered the story with such good memories. You honestly probably wouldn't have remembered the wine.
CC: I think the thing I love about the way you curate the store is that you curate it for the experience of the wine not, and for the preciousness. You have $80 bottles next to $13 bottles and all of them are equally as fitted to the experience.
ET: Yes, that's what we aim to do. Select a range of wines that are as equally as appropriate for whatever it is that is going on so that there's something for everyone.
CC: I love that populist approach to wine. Because we have a populist approach to theater at Trinity and we pride ourselves on presenting what in some places is considered a high-art form and saying this is for the people.
ET: It's just fermented grape juice. All of the BS and all of the notions that some people put onto wine are in most instances just affectations. The mystery and magic with wine is the community that you share it with. The magic and mystery is not in the bottle. The magic and mystery is around the table.
CC: I'm with you 100%. The great mystery and magic is the experience of having wine with other people.
###