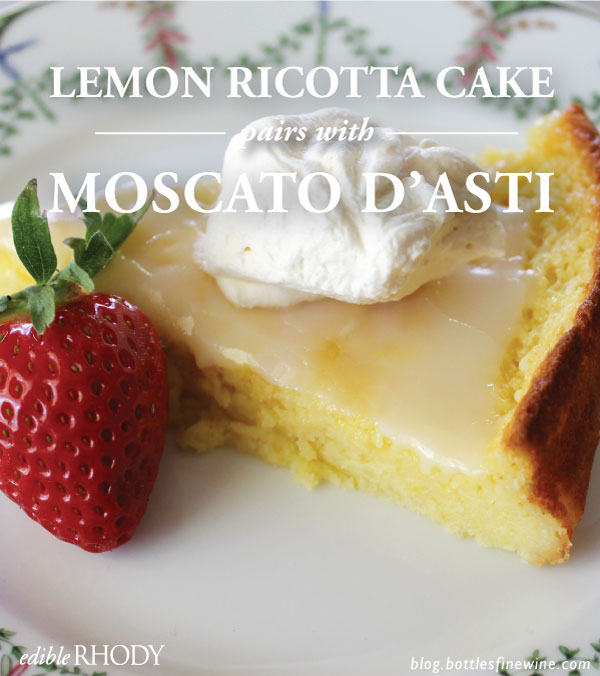 Spring is finally in the air and the flowers are blooming. What better way to enjoy the warmer nights than with a light dessert and a glass of wine? Ricotta is not technically a seasonal item, but it is made locally by Narragansett Creamery. Ricotta cheese is creamy, delicious, and versatile. We suggest pairing this Lemon Ricotta cake by Edible Rhody with the sweet, complex palate of Tintero Moscato d'Asti.
Ricotta Cheese
Ricotta, meaning re-cooked, is actually made from whey protein and is a perfect cheese for those with milk allergies. Dating back into Latin and Mediterranean history, Ricotta cheese is believed to have been created in the Roman countryside as travelers extracted cheese from buttermilk over open fires. Creamy white in appearance with a slightly sweet taste, Ricotta cheese is a very versatile product that is used in all areas of Italian cooking, from making lasagna to the filling of cannolis.
Check out the Narragansett Creamery website for a list of markets and farms to find their Ricotta Cheese and other products.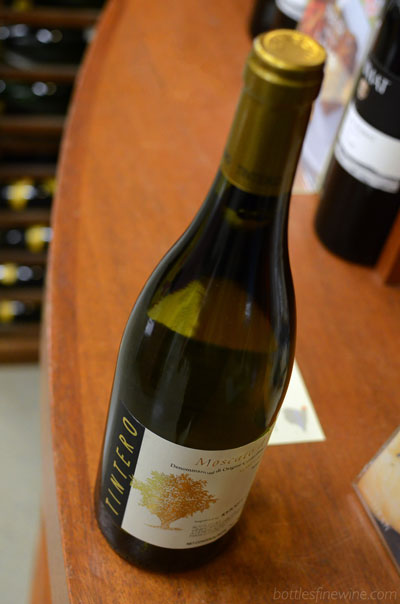 Tintero Moscato d'Asti Sori Gramella
First bottled just after the beginning of the World War I, Tintero was started by a Frenchman named Pierre Tintero who came to Piedmont, Italy, to find work. Located in the heart of Asti, 20 of the winery's 30 hectares are planted with the Moscato grape, of which the Sori Gramella parcel is the largest. Planted on a buried limestone amphitheater and with a southern facing slope, the grapes receive long hours of sunshine, which results in a delightfully fizzy, complex and slightly sweet wine. Pairing perfectly with desserts, try the Moscato d'Asti with this Lemon Ricotta Cake from Edible Rhody to balance the tartness of the lemons with the sweet nature of the wine.
Lemon Ricotta Cake
Susan VandenBerg, owner/pastry chef, The French Tarte, Pawtucket
This delicious cross between cake and custard is reminiscent of a sunny day in Italy, and the perfect ending to a spring meal.
 ½ cup plus 2 tablespoons all-purpose flour
2 teaspoons baking powder
½ teaspoon salt
¾ cup unsalted butter, softened
¾ cup granulated sugar
3 large eggs, separated
1 cup whole-milk Narragansett Creamery ricotta
Grated zest of 3 large lemons
2 tablespoons fresh lemon juice, divided
½ cup confectioner's sugar
Whipped cream (optional)
Fresh berries (optional) 
Preheat oven to 325°. Grease an 8-inch round cake or springform pan and line bottom with parchment paper, trimmed to fit. Whisk flour, baking powder and salt in a small bowl. Set aside. With an electric mixer, cream the butter and sugar at high speed until light and fluffy. Add egg yolks, ricotta, lemon zest and 1 tablespoon lemon juice, and blend on medium speed until smooth. Add in the flour mixture and mix on low speed until combined.
In a small bowl, whisk the egg whites until soft peaks form. Gently fold into the batter. Pour batter into prepared pan, smooth top, and bake on a lined sheet pan for 40–45 minutes, or until a toothpick inserted into the center comes out clean. Cool for 15 minutes before turning onto a wire rack, and then cool completely.
For the glaze, combine confectioner's sugar and 1 tablespoon lemon juice. Warm for 5–10 seconds in a microwave and pour on top of the cooled cake.
Serve with whipped cream and fresh berries. Serves 6–8 for dessert.