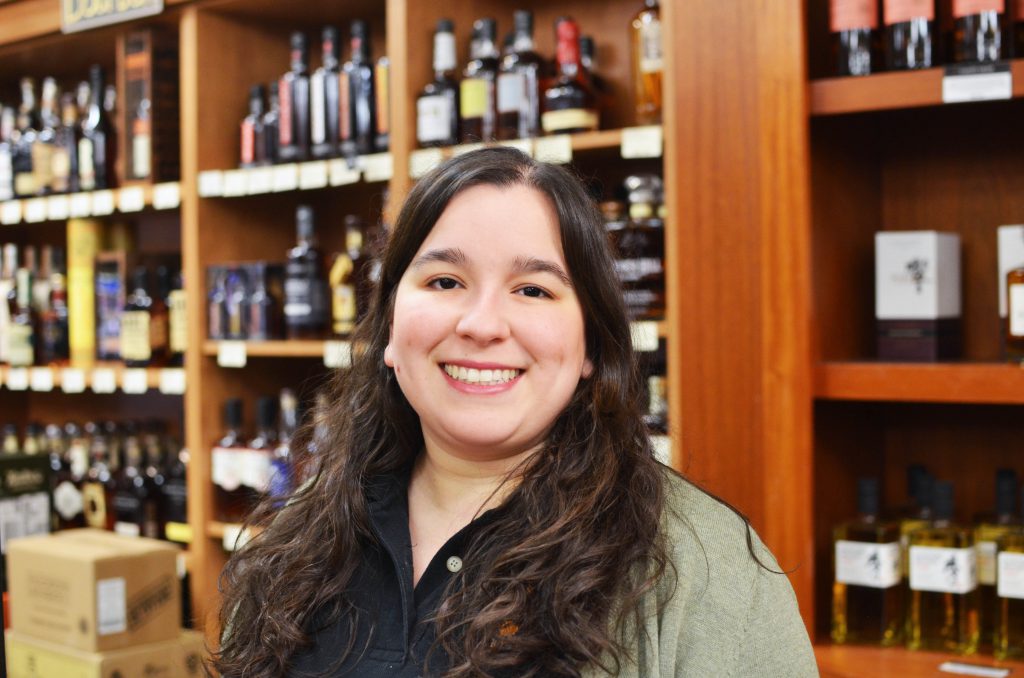 Meet Kate Miceli, our newly minted wine assistant. Kate's been with us for just over 6 months, and thanks to her extensive wine knowledge and uncanny ability to help customers find what they're looking for, she was a no-brainer for this new role. As part of our ongoing efforts to help you drink better, she'll be helping Nick manage our expanding wine collection, spending all of her time on the floor helping to understand your needs so that you leave with the perfect bottle.
Kate hails from Pleasantville, New York and is a graduate of Johnson & Wales, where she studied wine, culinary arts and nutrition. She's an accomplished cook with professional experience, knows all about cheese, is a master oyster shucker, and loves to cook at home for her family and friends, and her pug.
Here's more on Kate's current wine thoughts:
What's your favorite style of wine?
Dry white wine is my favorite style. Especially whites from Saint Joseph in the Northern Rhone Valley from the grapes marsanne and roussanne that are vibrant and golden in color, and have a lot of body and flavors of ripe nectarines, tropical fruits, and white flowers.  I find these wines to be perfect with a variety of foods.  Fried chicken, Thai curry, stuffed pork loin with pancetta, and roasted Cornish game hens are just a few things that I would love to drink with a good Northern Rhone wine.
What's your go-to bottle of wine for dinner on a Tuesday night?
On a typical Tuesday night, I am probably cooking tacos for dinner. Spicy chicken or pork tacos! Ice-cold Pullus sauvignon blanc from Slovenia is delicious and makes for a great pairing. The wine has flavors of cape gooseberries and zesty limes!  It goes exceptionally well with avocado and fresh homemade Pico de Gallo too.
What bottle on our shelves do you most covet today?
One wine that brings me pure joy is Taurasi from the producer, Mastroberardino. This fantastic  ruby-red hued wine hails from Campania in Italy. This is what they drink in Naples!  It is comprised of 100% aglianico grapes and is multi-layered and very complex.  It is powerful, but quite elegant with flavors of bitter cherries, flint, fresh herbs, and cherry wood.  Drink with hearty meat roasts, truffles, fancied up pizza, and Bolognese.
In your opinion, what's the most underrated wine style?
Wines from South Africa often get a bad rap.  My newest favorite vineyard from South Africa is Stellekaya. They make a fantastic Sangiovese called Hercules. The winemaker, Ntsiki Biyela, is the first female African American winemaker in South Africa.
What in the wine world are you most excited about today?
I'm excited about how natural wines are gaining popularity up here in New England.  They have been the real 'it' thing in Brooklyn and NYC for many years but now I see more and more of these fun 'natural' wines here in RI. To me, these wines are like drinking art. I also find it very exciting how many women are now a part of the wine world.  While it used to be a male dominated career, many strong women are changing that.
If you're in need of a great wine recommendation, come by and find Kate – she'll be glad to help you!
###