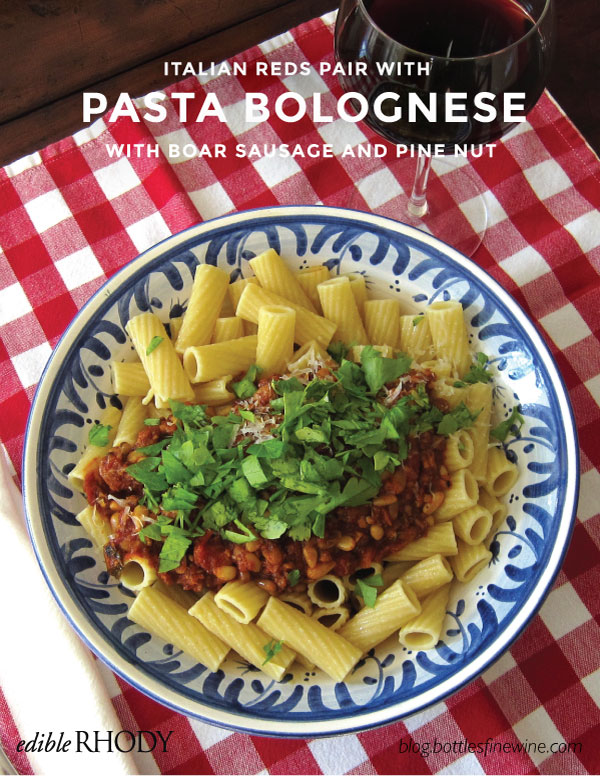 One of the best rules with food pairing is the adage, "If it grows together, it goes together."  Especially in Europe, there is a very serious notion of eating food from the region that you live in – part of that notion is in drinking wine that is also grown nearby. So in this pairing, it makes sense that a classic Tuscan/Italian dish, would pair with a classic Italian wine:  Poliziano Rosso di Montepulciano. We especially love this Pasta Bolognese recipe recently featured in Edible Rhody Magazine.
Wines with the name 'Rosso di Montepulciano' are made from the Sangiovese grape, the same used to make Chianti and the famous Brunello di Montalcino.  Generally, you can expect flavors of big ripe cherries, plums, leather and spices like nutmeg and cinnamon.  The richer foods that we eat in the fall go perfectly with the flavors of a Rosso di Montepulciano.  
Like I mentioned before, if it grows together, it goes together – so it's really difficult to imagine if this dish was created for the wine or if the wine was created for the dish.  The elegant flavors of the wine are meant to mesh seamlessly with the tomato sauce and the spices used in the sausages.  We hope you enjoy and we look forward to hearing your feedback!
PASTA CON SALSICCIA DI CINGHIALE E PIGNOLI BOLOGNESE
(Pasta With Boar Sausage and Pine Nut Bolognese)
Owner Frank Martinelli, PV Farm Stand, North Scituate

This recipe is a favorite in the Martinelli family. It's zesty and bold and while it may seem like a lot of pignoli, the finished product is enhanced in both appearance and flavor by all those toasty nuts. Serve it with a hearty pasta like penne or rigatoni but good old elbow macaroni is fine too.
¼ cup extra-virgin olive oil
1 pound hot boar sausage, casing removed
1 pound mild boar sausage, casing removed
2 cups ground boar meat
1 pound (3⅓ cups) pignoli (or pine nuts), lightly toasted
1 small-medium onion, finely chopped
1 small-medium carrot, finely chopped
4 cloves garlic, finely chopped
½ pound (2½ cups) sun-dried tomatoes, drained and chopped
1½ cups (12 ounces) tomato sauce (or use Martinelli's Marinara)
1 cup chicken stock
½ cup red wine
Kosher or sea salt
Freshly ground black pepper
Crushed red pepper (optional)
1 pound penne, rigatoni or your favorite hearty pasta shape
Freshly grated Parmigiano-Reggiano (optional)
Heat olive oil over medium heat in a large sauté pan and add sausage and boar meat. Sauté for 10 minutes, stirring often, breaking meat up with wooden spoon as it cooks. Add pine nuts, onion and carrot. Cook for 5 more minutes until onion is translucent.
Add the remaining ingredients. Simmer until the wine has cooked down and the meat is tender, about 15 minutes. Season with salt, pepper and crushed red pepper to taste. Add tomato sauce or additional broth if sauce gets too thick. Serve over pasta cooked al dente with a sprinkle of grated Parmigiano-Reggiano. Serves 6 to 8.
Note: Ground pork and sausage can be used in place of the boar meat and sausage. Find Frank Martinelli's boar products by visiting PVFarmstand.com.

Bienvenuto!
Cheers!
The Bottles Team