It's grill season! Oh the glorious dishes to make, wine to drink, and memories to be made. If you are a big fan of hearty greens like kale, collards or broccoli rabe, then bok choy is for you. Once you try this vegetable, you'll wonder why you've never had it before. Perfect for the season and very versatile, bok choy is a must for your summer ingredient list, along with the expansive palate of Montinore Borealis, a white wine blend.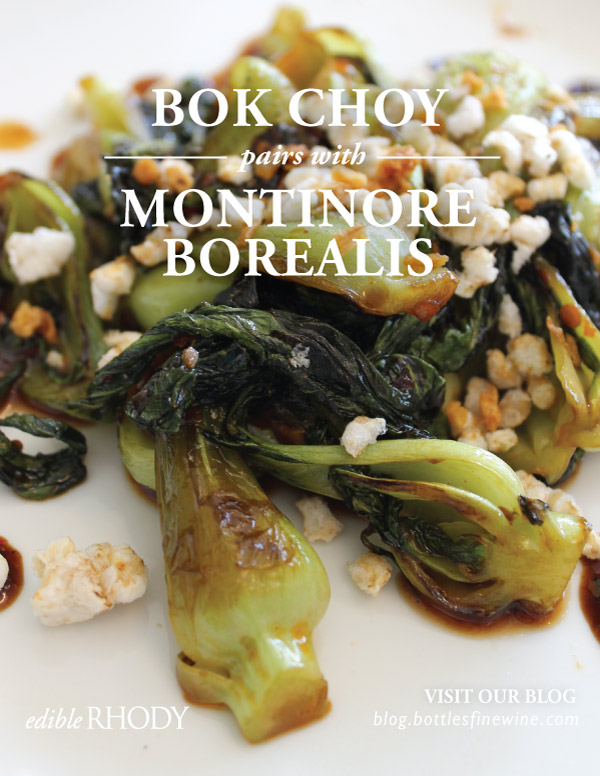 Bok Choy (BAHK-Choy)
One of the staple mainland crops in China, Vietnam, and the Philippines, bok choy has become popular in western culture for its sweet and succulent nutritious stalks. Literally translated as white vegetable, it is one of the most nutrient dense foods in the world. Packed with calcium, folate and vitamins A, C, and K. Eaten raw in salads or cooked in stir-fries and soups, bok choy is a very versatile and flavorful vegetable that goes perfectly with the broad palate of a glass of Montinore Borealis.
– For some reading material, Edible Rhody wrote an article demystifying the cabbage.
– Check out Farm Fresh for a list of farms to get some fresh bok choy
– For more fun and creative recipes take a gander at Serious Eats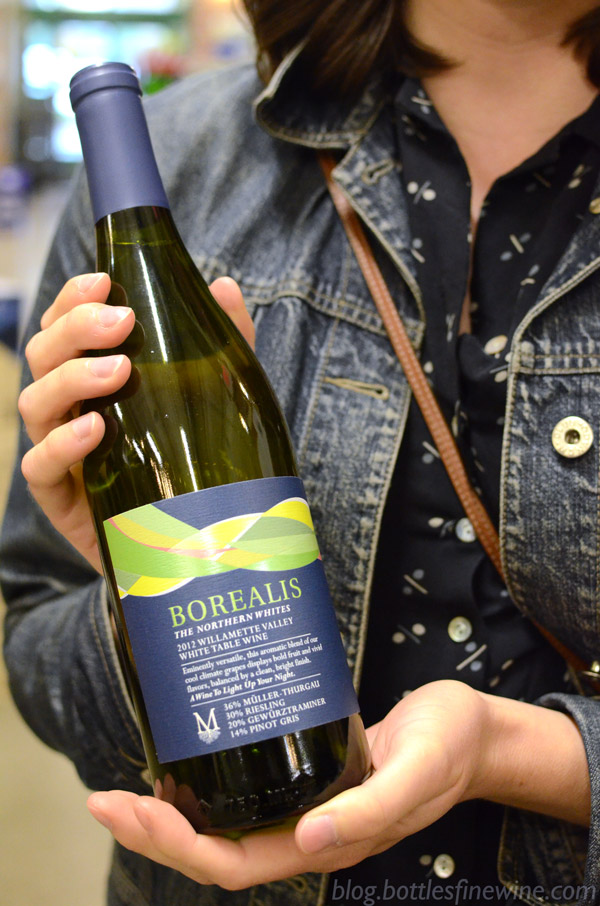 Montinore Borealis
Established in 1982, Montinore Estate is a Certified Biodynamic & Organic wine producer situated at the northern end of the Willamette Valley appellation. Creating wines that are crafted for the dinner table, built with structure and are fresh and lively; they believe that exceptional wine is born of a sustained marriage of soil, climate and artful stewardship.
Perfect for that slightly sweet and flavorful bok choy, the Borealis is a wine that covers the full fruit spectrum. A blend of grapes with amazing profiles, the nose is filled with aromas of peach, yellow apple, pineapple and citrus with hints of cut hay and fresh flowers. Soft on the palate with a hint of sweetness the expression is filled again with flavors of peach, pear and citrus followed by a crisp acidity and long finish. Doesn't that just sound delicious? For more  vegetable and wine pairings, check out our post from last year for Sauvignon Blanc & Arugula or Radishes & Pinot Gris.
Hot and Sour Bok Choy
James Mark, chef, north
Featured in Edible Rhody Magazine
This dish is all about a balance of flavors and texture – the char of the bok choy, the sweetness of maple syrup and the sourness of tamarind. Puffed rice and fried garlic add a crunchy texture to the half raw, half charred Chinese cabbage. We get our book choy from White Barn Farm or Freedom Foods Farm. The other ingredients are easily sourced at any local Vietnamese/Cambodian or well-stocked market.
6 heads young bok choy, quartered
1 tablespoons cooking oil
1 pinch kosher or sea salt
2 tablespoons tamarind juice
1 teaspoons coriander seed, crushed
1 tablespoon maple syrup
1 tablespoon toban djan (Chinese chile bean sauce)
1 piece puffed rice cake, crushed
1 piece scallion, sliced thin
1 heavy pinch fried garlic (store bought or homemade)
1 turns freshly ground black pepper
Heat cast-iron or other heavy bottomed skillet until it is very hot. Add the bok choy without oil and let it char. Once the bok choy has blackened slightly, add the oil. (It will smoke a bit, so open a window.) Season with a heavy pinch of salt.
Add the vinegar, tamarind, coriander, maple syrup, and toban dan and let it cook for 30 seconds. Place the cabbage on a warm serving plate, and top with puffed rice, scallion, fried garlic and black pepper. Serve immediately. Serves 2 or 4.