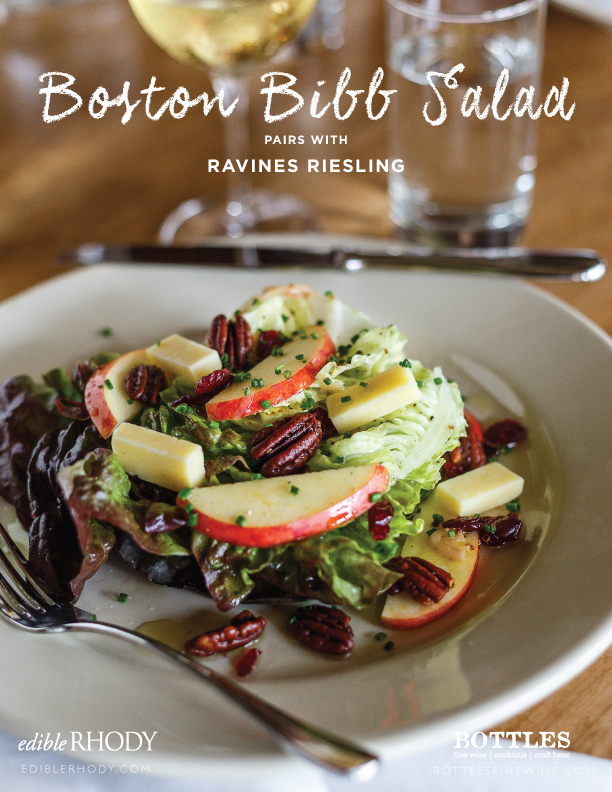 What food and wine pairing will taste like a party in your mouth?
Edible Rhody Magazine's Boston Bibb Salad and Ravines Riesling.
Typically, acidic salad dressings are hard to pair with wine – they make the wine taste bitter.
However the fresh apple cider sweetens this dressing and pairs perfectly with this fruity but bone-dry Riesling.
Brimming with flavors peak-of-summer fruit flavors like peach and nectarines, this will go especially well with the spiced pecans and cheddar cheese in the recipe.
Woo-hoo to fall salads!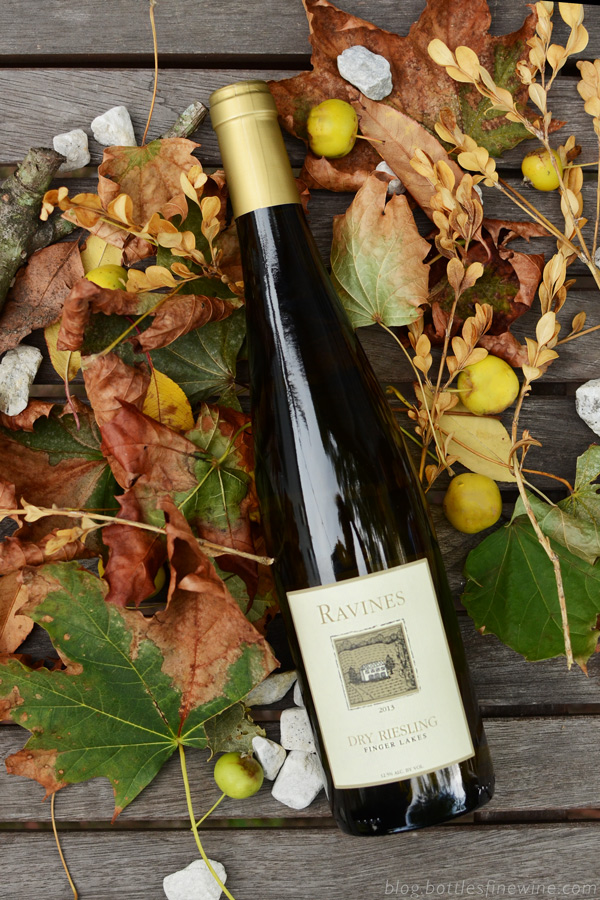 RAVINES RIESLING
Great wine from the Finger Lakes region. Dry & crisp without being sweet.
Flavors of peach, honeysuckle, and a crisp ripe lemon/lime finish.
Try with dishes that include apples, like Edible Rhody Magazine's Boston Bibb Salad.
Cheers!
– Eric Taylor, Bottles General Manager
BOSTON BIBB SALAD WITH APPLE CIDER VINAIGRETTE
by Steve Johnson, The Red Dory, Tiverton
At the restaurant, our vinaigrettes tend to be on the slightly acidic side, but this one is a touch sweeter thanks to the addition of fresh apple cider.
SALAD
INGREDIENTS
1–2 heads Boston Bibb lettuce, trimmed, washed and dried
1 small red onion, peeled and thinly sliced
1 cup cubed semi-sharp Vermont cheddar cheese (we use Grafton cheddar)
½ cup dried cranberries
3 tablespoons minced fresh chives
Spiced Pecans*
Apple Cider Vinaigrette**
DIRECTIONS
Divided among 8 salad plates, arrange lettuce, red onion, cheese and cranberries as desired. Sprinkle with pecans and fresh chives. Dress with Apple Cider Vinaigrette. Serves 8 as an appetizer.
* SPICED PECANS
INGREDIENTS
2 tablespoons brown sugar
1 tablespoon kosher or sea salt
½ teaspoon paprika
½ teaspoon chili powder
¼ teaspoon cayenne pepper
8 tablespoons (¼ pound) melted butter
4 cups pecans (or your favorite combination of nuts)
DIRECTIONS
Preheat oven to 350°. In a mixing bowl, blend the sugar, salt and spices. Pour in the melted butter and stir to mix. Add the pecans and toss to coat evenly. Spread the seasoned nuts out on a baking sheet and roast them for 12 minutes or so. (There should be more than enough pecans for the salad, with some to snack on too!)
** APPLE CIDER VINAIGRETTE
INGREDIENTS
⅔ cups cider vinegar
¼ cup fresh apple cider
2 medium shallots, peeled and thinly sliced
1½ teaspoons grainy mustard
½ teaspoon fresh thyme leaves
½ cup good olive oil
1 cup canola oil
Kosher or sea salt
Freshly ground black pepper
DIRECTIONS
In a mixing bowl, whisk together all of the ingredients to make the vinaigrette. Double-check the seasoning.